In my post last month I talked about the increasing need to focus on social media optimisation (SMO). Part of this activity is finding ways to make your content more shareable.
Research suggests that sharing amongst friends, families and other "tribes" is becoming more important.
ShareThis and Starcom MediaVest recently released a study. The study focuses on ShareThis' database of sharing activity for it's widget in March 2011.
Social sharing now produces an estimated 10 percent of all Internet traffic and 31 percent of referral traffic to sites from search and social. Search is around twice as big.
It's a big sample; 7 billion shares, 300 million users across the top 1,000 publishers. So remember – it's more typical of new sites than most businesses selling products and services online.
The details of what is clicked when shared shared shows that Facebook accounts for 38 percent email and Twitter are both second with 17 percent each: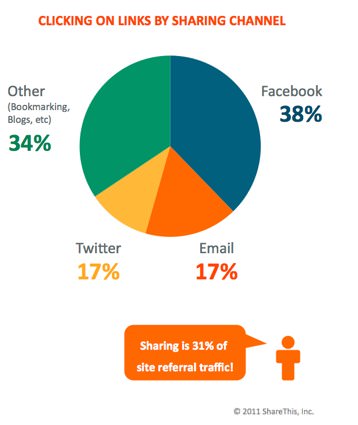 So what are the implications for non publishing businesses?
1. If you don't have blog, customer magazine or similar "content hub", then you will be missing out on introducing others to your brand via the network of people who know you already.
2. Having a defined content strategy to define the right content to engage and how to promote is needed to underpin your content hub.
3. Since sharing signals are now used by Google and Bing for ranking as I explained in my previous column, so you are also missing out on the potential ranking boost.
4. Email sharing is still important and often more personal, so don't exclude this!
5. Encouraging sharing of other product and service content is also important.
6. You can encourage sharing after purchase too.
7. There are many free tools like AddThis.com and ShareThis.com which make it easy to integrate sharing on your site. Paid solutions to consider include Gigya and Janrain.
8. Many of these tools provide "social sign-on" which integrate with a users social network account to make it easier to share.
Comments