In August, Google announced a new feature which has been dubbed "mega sitelinks". Although this seems to be a small change which wasn't widely reported, we think it is important.
The reason, is that for every site of a well-known brand, the most important searches by volume are brand search terms. Sitelinks give an excellent opportunity to engage both customers and prospects by highlighting the best content.
If you're not familiar with Sitelinks, they are the listing of extra links below the brand main site description when you search on a brand name. Before this change site links in the natural search results gave just a series of links. But this example showing the new sitelinks for ClickThrough Marketing, shows that they now take up much more of the page with 8 to 12 alternatives and include more detailed descriptions.
We suggest you take a look at your sitelinks and those of your competitors and answer these questions:
Q1. Do we have sitelinks for a search on our brand name?
Most established brands will already have sitelinks, so you can skip this question. If you're a small business or not in the top position the change won't help you, in fact it could push you down the search results page.
Q2. Are there glitches in sitelinks?
If your sitelinks are wrong or have glitches like an unsuitable title or error page, then it's worth changing these – this can be done in Google Webmaster Tools as explained below.
Q3. Are the wrong pages displayed?
Since Google's site algorithm is automatic it does a good job of highlighting the most important and shared pages on a site – typically those within the main navigation. But also other popular or shared content.
Q4. Are we using Google Webmaster Tools to manage sitelinks?
You can't tell Google what you DO want as a sitelink, but you can tell it what you DON'T want. This is where you go to in Google Webmaster Tools and the new Google facility.
Q5. Are we happy with the descriptions?
One of the big changes is that the new site link adds a description – if you want to change this, you can through editing the meta description of the page through the CMS.
The most important description is for the home page – often this doesn't explain the site value prop well, but this one does.
Q6. How do the sitelinks work with Google Adwords?
Adwords now has its own "Ad Sitelinks" above the natural listing – you may want to use these to highlight offers that are popular in your natural sitelinks – or missing! These work well for many ClickThrough clients already.
Q7. Have we checked "brand plus" phrases?
This is where people search for the brand name plus a product or service. It seems that Google may include more of these now, so you check your analytics to see whether Brand plus phrases are driving traffic for you.
Q8. What do our analytics tell us about which content is engaging?
You can use the Landing page report in Google Analytics to see the importance of different brand phrases in driving traffic. This graphic summarises the steps to tackle this.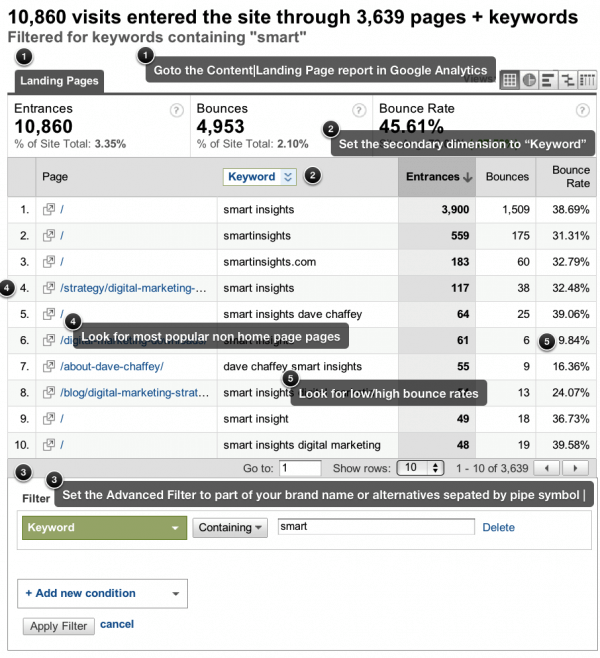 Comments