Dr. Dave Chaffey provides his expert insight to help marketing managers prioritise their SEO activities, with his list of eight mistakes to avoid.
Recently, I ran a pair of in-company training workshops for a business made up of around 20 brands operating in different B2B sectors. In the intro ice-breaker we discussed the main ranking factors and SEO activities that were being worked on in the business. There were lots of great suggestions on ranking factors and a generally good knowledge of a range of on-page and off-page SEO ranking factors. However, there was a problem - very few proactive SEO activities were being worked on. It brought home to me, yet again, the challenge for brand and product marketers of managing and improving SEO and content marketing when there so many other marketing AND digital marketing activities that they have to be working on.
I thought it could be useful to share the challenges here, since I think a lot of these issues will be faced by many, if not all marketers in other sectors too, who know that driving visits from organic search is important, but are spinning many other plates. Often more important plates...
These include marketers who are in a 'team of one', i.e. the only marketer in a company, or the country marketer or a digital marketer in an international company where you are responsible for one local marketer. These mistakes are a lot less likely if the brands are working with an agency or there is a central resource in the 'Digital Marketing Centre of Excellence'. It's likely that you will be working on these if tapping into search intent is critical for your business, which it also is for many consumer e-commerce businesses. But actually, it's less important here.
I'm sure you'll recognise many of these mistakes I will cover here. Do let us know which you see most often, or others that are missing.
1. Insufficient Key Phrase Research and Analysis.
'Do you have a keyword list of search terms used by your prospects which you use to inform the keywords you target through SEO?' This is usually one of the first questions that SEO consultants or agencies ask. When I asked this is in the training workshop, there was a bit of squirming and the general answer was 'No, not really. It's in our heads.' But everyone thought it was a good idea, particularly when the list is based around quantitative estimates of consumer search behaviours, which is what I was suggesting.
2. Goals Unclear and Tracking Limited
The next question was, 'How important is organic traffic to your business?' Most in the room knew they could look at this traffic segment in Adobe Analytics/Omniture, which was the analytics service in use in this case. Ideally, the impact of different channels, such as organic search on goals like leads and sales, should be assessed, but this depends on customised goals being set up in Google Analytics, not always the case in my experience...
Some suggested they could see searches used in the keywords report... Worrying, since Google started reporting 'Not Provided' for secure searches this insight has been limited. Of course, a better source is the Google Search Console, but the problem here, which I have seen in numerous organisations, is that the insight available in Google Search Console is not made available to those in marketing. I'm not saying it needs to be monitored daily, but it is useful for monthly or quarterly reviews, at least by some in the marketing team.
3. Low Awareness of Index Inclusion and Featuring Different Content in the SERPS
These are the technical SEO issues that you wouldn't expect marketers or brand managers to be aware of. In this case, there was better awareness than I expected of the issues. For example, awareness of duplicate content as an issue and the challenge of getting different domains to rank. There was also awareness from some of the many different search results page features (SERPs) charted in the Mozcast Features benchmark.
Since many of the SERPs entries are now no longer a simple blue hyperlink and description, it's become important to understand features such as the Knowledge Graph, Quick Answers and how to get Sitelinks and images to be included where.
4. Content Owners / Editors Don't Know the Rules of SEO
Of the hundreds of ranking factors Google uses, success is ultimately based on off-site factors, which are the authority of a domain based on relevant, quality sites linking to it, and on-site factors of creating relevant, quality content.
In this team, the importance of on-site and off-site factors was well known. But, when you drill down into the detail, specific on-site factors were sketchy with many believing meta data was important to ranking (rather than duplicate content identification and encouraging click-through in the SERPs) and not knowing the details of the importance of title, headings, copy and linking out to other sites. These are the TDKs that ClickThrough Marketing re-engineer for their clients to drive performance. Knowledge of these on-page factors is also needed among content editors and owners.
5. Insufficient Unique Quality Content
Arguably much more important than the on-page factors for content markup is the quality of the content itself. The publishing site I run, Smart Insights, has built up a Domain Authority of 80 / 100 as rated by Moz. In large part this has been through regularly sharing advice via the blog in a variety of formats - standard blog posts, visual planning mindtools, research reports and infographics. We have seen some benefits from outreach and sharing from expert writers, but ultimately, our steady growth in backlinks is based on the regular publishing of sharable, linkable, relevant content. This is precisely what Google recommends in its Webmaster Guidelines.
We reviewed the Content Marketing Strategy matrix as a way of reviewing opportunities based on technique in-sector and out-of-sector competitors are using.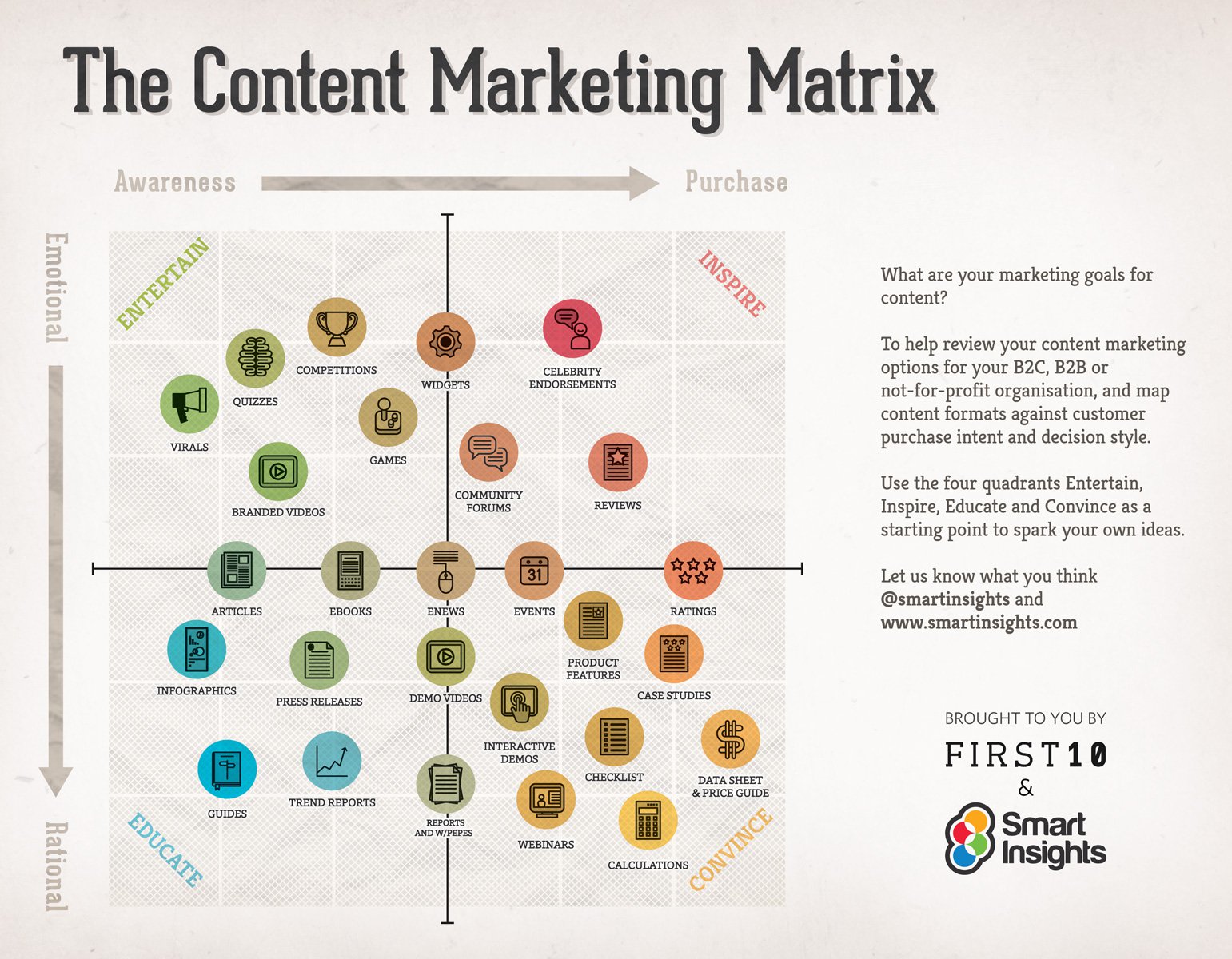 This was latched on to as a useful future way of finding new content types, which was good to see. This type of thinking is crucial to compete using what has been called 10X Content (by Rand Fishkin of Moz), Skyscraper content (by Brian Dean of Backlinko) and Evergreen, Cornerstone content (by Joost van der Valk of Yoast).
6. Internal Linking Strategies Not Used
Another significant ranking factor that has the benefit of being controlled by site owners is using internal links between or within brand sites. In this case, this was used, but without the needed context of which mix of anchor text is preferable, given Google's Penguin algorithm.
7. Weak External Link-Building Tactics
Gaining backlinks from other relevant sites remains vital if a business wants to compete with others in its sector. As I've said, creating quality content is at the heart of this - there is no short cut for this, and this is still one of the major challenges within SEO for businesses that don't have sharable content. As SEO-PR guru Eric Ward has said to SEOs:
It's not the link-builder that get's the links. It's your client's content that must earn the links. You need to be honest when a client has a site with no true distinguishing content to their 20 competitors.
The type of content is also crucial to working on outreach and this needs a traditional PR approach. Eric Ward has also said: "Link-building is nearly indistinguishable from public relations." If you regard links solely as an outsourced SEO, rather than a PR function, link-building initiatives may end up creating an unnatural inbound link profile. Fix this by working toward more co-operation between your public relations, marketing, sales and SEO teams.
8. Not Having Time to Follow the Latest Changes
So, how do these challenges of managing SEO activities where there is limited specialist SEO resource look to you? Familiar? One final issue to consider here is that SEO is so fast-moving that it can be difficult for marketing execs to know where to look to stay up-to-date since they're not hooked into the network of full-time SEOs, and so don't know which forums to monitor or discuss the latest changes.
The regular blogs from ClickThrough Marketing and Smart Insights are a great place to start building out your industry knowledge, and staying informed on key SEO changes.
So how many of these eight mistakes do you think your brand makes when managing SEO? And how many do you have the time or the expertise to eradicate moving forward?
Need help managing the SEO activities on your website? Discover how our SEO Management services could help your business improve rankings and visibility. Contact us on tel: 01543 410014.