I last flagged up the importance of mobile search at the start of 2011. Since this time, mobile has continued its growth. In retail for example, the Q2 2012 BRC-Google report showed that total retail search volumes grew 9% in the second quarter of 2012, compared with the same quarter a year earlier. Mobile/tablet search volumes grew by 113% year-on-year.
If you're making the business case for investment in mobile site enhancements or mobile site behaviour take a look at Google's new Our Mobile Planet which shows how consumers are using smartphones. Smartphone penetration is increasing rapidly; the research shows that for the UK this has increased from 30% to 51% between Q1 2011 and Q1 2012.
Smartphone users may be more active than you think. Frequency of use is an important factor, with more than half now using mobile search daily if they have a smartphone and more than half having made a purchase in the last month.
In my previous 2011 post I suggested different steps you could take to use analytics to assess the importance of mobile. These are still relevant steps to that you or your agency should take to evaluate whether you are putting enough resource into mobile marketing.
Step 1. Review current usage of your web sites by mobile devices using Advanced Segments in Google Analytics.
Step 2. Analyse the volume of mobile search demand for your products or services, e.g. using the Google Keyword Tool.
Step 3. Assess the relevance of mobile + local search for your customers within their buying process.
Step 4. Review your current visibility for mobile searches.
Step 5. Implement a mobile search strategy.
The mobile search strategy will naturally cover both mobile-specific use of SEO and Pay Per Click.
For SEO, I've noticed that Google appear to have changed their advice to implementing responsive design/progressive enhancement rather than how you can ensure mobile specific content is crawled, for example using its crawler Googlebot-Mobile and through use of mobile sitemaps.
If you're a publisher you may want to have separate versions of your site for different readers, but for other businesses this is good news since the advice is to have a single version of your content with responsive design for different devices.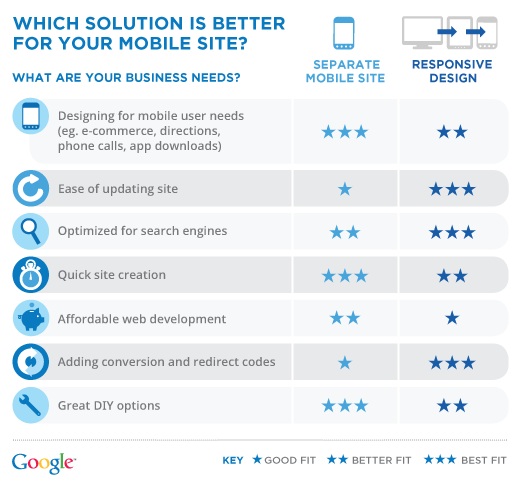 For advertising in mobile using paid search and display there have been big developments in the last year in the options available too. I'll take a look at these in my post next month.