Dr Dave Chaffey reviews Google's Search Analytics tool - is it the key to unlocking 'Not Provided'?
Have you seen Google's new Search Analytics tool? It's an important free tool to help with SEO since it shows how well your site is ranking for different keywords and where visitors are landing.
I've been using it during Google's Beta review and it's now available to all users of Webmaster Tools as notified by Google - see Google's announcement of the Search Analytics launch.
If you want to get a feel for how it looks, this is how it looks for Smart Insights.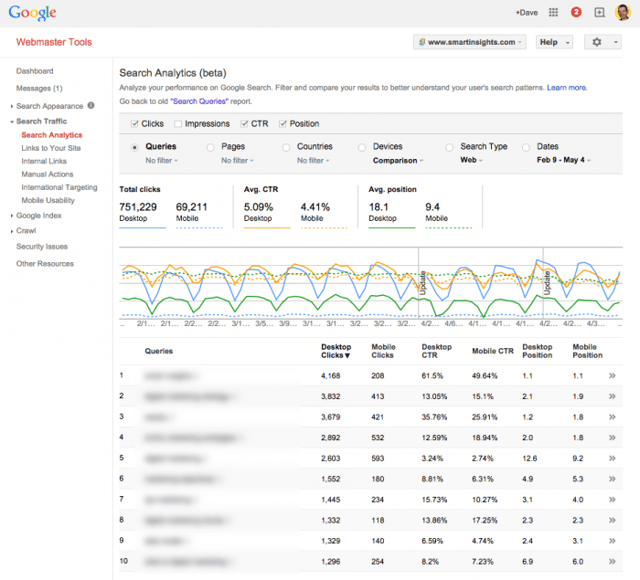 What do marketers need to know about Google's Search Analytics?
In this post I'll give a short briefing explaining the main new features and how it relates to Google's other tools.
1. Search Analytics is a free tool to show how your keywords rank and the visits they generate to your site through time.
Google has built this tool since with the growth of Not Provided Keywords almost all organic search traffic is now encrypted, making it impossible to see in the original Google Analytics SEO reporting which keywords from Google are driving visits and converting. This led to a resurgence in the popularity of rank checkers which Google has always discouraged.
The grab above shows that Search Analytics shows both visits from search and rankings.
2. It shows keywords through time, but only for the last three months
Unfortunately it does not provide long-term analysis. Analytics tools are most useful when you can do year-on-year comparisons that take seasonal changes into account - this isn't possible at the moment.
3. Comparison of four keyword metrics available
The four measures shown are:
Clicks
Impressions (the number of searches for the keyword)
Click-through rate
Position
These are broken down by keyword and you can see totals also.
Google Analytics used to only show Clicks, so this is an improvement on what was available five years ago.
4. Click-through rate review enables improvement of copy and calls-to-action
The example above shows how you can see that click-through rate varies from three per cent to 30% plus. This depends on position, but it gives an opportunity to see whether you can alter page titles or descriptions to boost click-through rates - we have seen some dramatic improvements here.
You can see above that mobile CTRs tend to be generally lower, likely because ads are more prominent on mobile, but it could be an indication that a page has been hit by the mobile friendly update.
5. It's an extension of an existing tool available only if your site is registered with Google Webmaster Tools
The tool is not completely new since a previous tool showed this data as shown below, but it has been completely redesigned to better enable comparison. As Google has said:
Over the years, we've been listening to your feedback and features requests. How many of you wished they could compare traffic on desktop and mobile? How many of you needed to compare metrics in different countries? or in two different time frames?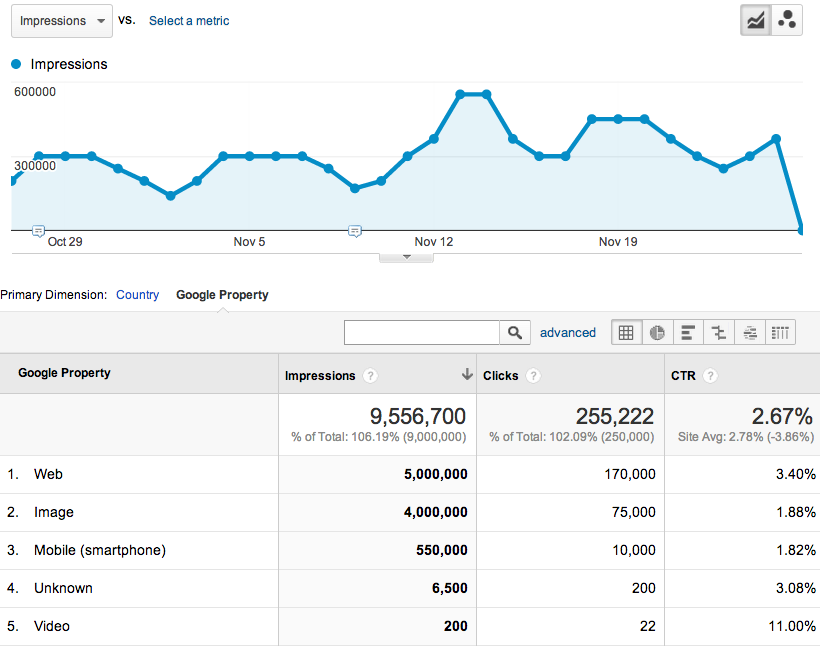 6. It's not currently available in Google Analytics
The previous version of this tool was available in Google Analytics as the 'Search Queries' tool within the 'Acquire' menu. This requires your Google Analytics to be connected with Google Webmaster Tools. The Google Analytics version hasn't yet been updated.
7. It shows device type breakdown, i.e Mobile / Smartphone visits and Clickthrough rate
Mobile and desktop visits can be compared as shown above.
This is particularly useful with the growing importance of mobile use and Google's 'Mobile-friendly' update which potentially can cause non-mobile-optimised sites to rank lower.
8. It shows (some) algorithm changes
The vertical bars show the dates of the 'Mobile-friendly' update, the so-called 'Mobilegeddon'. It also shows an error in reporting when visits were shown as lower than actual.
9. The importance of image and video on visits is shown
Today, images are often prominently shown within the search results (SERPs) for some searches. You can assess this by keyword. We have found they do contribute some traffic, but usually a much lower percentage for the main keywords we rank for.
10. The accuracy of the tool has been questioned
Forerunners of this tool were criticised as being inaccurate, so remember that volumes are only estimates.
However, for showing relative volumes and changes, it's still definitely valuable
I hope this briefing is useful. How do you find the new tool?