I was recently speaking at the Marketing Week Live! conference and the use of media attribution was a common theme. For example Chris Fensome, Paid Search Specialist at First Choice described how it was a key part of their technique for driving efficiency in their Google Adwords campaigns. It also featured prominently in a talk by Mark Nicholson, Head of Ecommerce at BSkyB. Mark asked the audience how many were actively using it and very few seemed to be. This is my experience when I ask on training courses.
If you're unaware of the media attribution approach, digital media attribution is a method of evaluating the combination of paid, owned or earned media touchpoints which influence or assist conversion to sale.
To take an example, from the 2009 edition of my Internet Marketing: Strategy, Implementation and Practice book (it's not a new approach), for a car rental company, the overall customer journey or "path-to-purchase" can involve multiple touch points from an affiliate to natural search to a banner ad before the rental happens:
Media attribution involves working out the relative contribution of different media to conversion to lead or sale. Companies who are investing a lot in digital media, and in particular display advertising or generic PPC keywords, naturally want to know more about which media investment is driving sales. Similarly, if you're investing a lot in social media then you want to know how this influences sale.
However, it seems that many companies are still using the last-click attribution model, which is the default in Google Analytics. In that case you can't determine whether previous impressions or clicks in other media have contributed to sale. This may underestimate the value that display advertising or advertising against generic keywords is generating.
Until recently the use of media attribution has been the preserve of large brands spending millions on media and using specialist attribution systems like Tagman or Celebrus. But today Google offers two features, Multichannel funnels and Social Analytics, which give new insight on how the combination of touchpoints supports sale: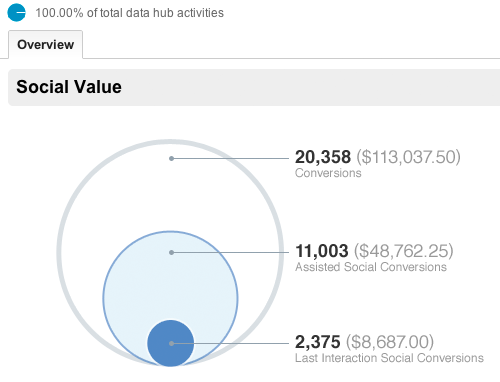 This chart shows "assisted conversions" where an individual has been previously referred by a social media channel. The new services do have their limitations though in that they can't show "viewthroughs" where display ads have been served to an individual, but not clicked on. This make it difficult to assess the value of display ads.
Are you considering media attribution? I hope this article has flagged it up as an issue to consider to get more value from your online marketing investment.