This post is adapted and abridged from our eBook: How to Brief a Web Design Agency - Part 1.
The full eBook includes lots more in-depth advice to help you write the perfect brief, and get a conversion-led, SEO-friendly website that supports your marketing goals.
Are you planning a new website for 2015? Here's some advice: Don't skimp on the brief.
On numerous occasions we've worked with clients who have had websites developed by other agencies, but have faced problems because they didn't start with a detailed brief that outlined their marketing needs.
On these occasions, starting from scratch is often the only option.
Over the next few weeks, we'll be showing you how to write a brief that not only results in a beautiful, modern website, but ensures it delivers on traffic, conversions and ROI.
To start with, we'll focus on one of the most important elements of your brief – planning, scoping and budgeting. Here's what not to do…
1. Not Defining Clear Objectives
Start by asking yourself: 'Why do I want this website?'
If the answer is simply 'because my business needs a new website', it's time to go back to the drawing board.
The Internet is awash with half-baked brochure websites with no clearly defined purpose. No conversion optimisation, no persona targeting – just flat, basic information that's not geared towards customers or your target prospects.
These websites are fossils. They're leftovers from the time when businesses rushed to get online, without really understanding what 'online' was all about.
Nowadays, websites are about more than pretty pictures. Principally, they're a commercial tool. For most businesses, they're also the principle commercial tool – their 'digital shop window'.
Even today, new web builds tend to be guided by one of three principles – technical goals, user experience (UX) goals and design/branding goals.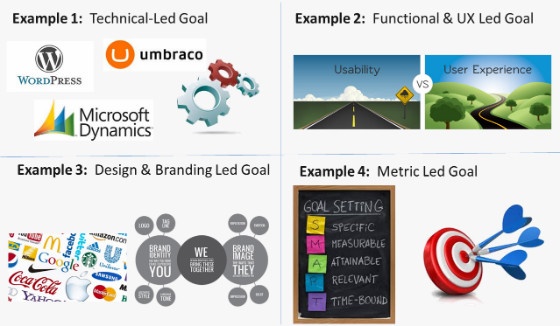 Technical-led goals tend to be platform specific. They help solve problems like "My content management system (CMS) is too difficult to use", or "I need a powerful e-Commerce solution".
UX-led goals aim to improve the customer journey. They help with issues like "My website is old-fashioned and hard to use" or "Our customers tell me they find it difficult to fill in our enquiry form, or find the information they need".
Design and branding-led goals are all about giving websites a modern 'facelift'. It's quite common for companies and developers to let this goal lead the design and build process. After all, most people know what they like when it comes to visual aesthetics – it's simply easier to make an informed decision on design choices.
There is, however, another type of goal that often gets overlooked.
Metric-led goals are the least common (but most important) goals. By letting your key metrics guide the development process, you're viewing your website as it should be viewed – as one of your business's most valuable commercial assets.
Of course, this doesn't mean that design, UX and technical choices should be ignored. However, by allowing your metric-led goals to guide decisions – from platform to colour scheme to copy – you can ensure every element of your website supports your wider commercial ambitions and ROI (return on investment) goals.
After all, it's no good creating a beautiful website and discovering it's not suitable for your user base.
2. Lack of Analysis and Scoping
Rushing head-first into a project without careful planning is one of the biggest mistakes you can make.
The amount of planning and scoping you carry out directly impacts the quality of your brief. And if your brief isn't up to scratch, a lacklustre result isn't necessarily your web development agency's fault.
Before you write your brief, remember to ask yourself the following questions:
Who is this website aimed at, and is there more than one target audience?
What does it need to convey?
What messaging is most going to appeal to my target audiences?
What do I want customers to do on my site? And how can I encourage them to do this?
What are my competitors doing?
What are my business's unique selling points (USPs)? And how can I effectively convey them to differentiate us?
Does this site need a powerful, enterprise-level e-Commerce platform, or a simple, easy-to-use, scalable content management system?
There are many more considerations to cover when putting together a brief. And if you ensure you cover all possible bases, you can ensure you find a web development agency that's able to deliver. Detailed scoping also means you won't end up paying through the nose for out-of-scope extras.
We recommend working with an agency that will work with you on the scoping and briefing stage before getting quotes and selecting your preferred partner. An experienced agency will challenge your thinking and will be able to make you aware of important considerations and potential needs that you hadn't considered when scoping out your initial requirements and brief.
Typically, trusted credible agencies will charge a consultancy fee for working with you on this process – rather than simply pitching and quoting based on your initial request for proposal.
3. Not Balancing Quality, Speed and Price
In our first point, we covered why your website exists. But there's another side to planning and scoping – deciding what your website can be, based on your budget, time constraints and available expertise.
Of course, we'd all like the projects we manage to be delivered quickly, cheaply and to the best quality standards.
Reality check: This isn't going happen. Delivering a website always involves a compromise between speed, price and quality.
If you set strict and unfeasible deadlines for your site, you can expect to pay more, and receive a lower-quality product.
If you demand an unfeasibly low price, you can also expect quality to slip, along with your deadlines.
If you want the highest-quality website possible, you have to accept that you'll have to invest more time and money to get it right.
This is the reality of the situation. But you can ensure you get the best-possible website at the best-possible price, delivered within a tidy deadline – as long as you're aware of this balance between price, quality and speed.
Again, it all comes back to the brief. In this series of blogs we'll show you more pitfalls to avoid, so you can create a watertight brief. And with a watertight brief, you're in the best position to get a great website that delivers great ROI.
If you'd rather get all the info straight away, you can download your free web briefing guide here.
Other Posts in This Series
Communication Mistakes to Avoid
SEO and Content Mistakes to Avoid
Conversion and Design Mistakes to Avoid