Like Santa's elves, marketers must work hard over the Christmas period to make the most of their campaigns. But rather than relying on guesswork, it pays to be prepared for your holiday marketing activities, as conversion optimisation expert Richard Chapman explains…
At this time of year most companies are at the height of their marketing activity, trying to get the most sales out of the busy Christmas period.
Throughout December, many marketing departments look a little like Santa's grotto, with elves feverishly working away to make beautiful presents (read: marketing materials) for the population at large.
This Christmas marketing push means the average Joe will also find themselves overcome by the sheer volume of festive themed advertising in the run up to Christmas.
It means more emails in their inbox, more banners and more ads – and that's just the start.
Consumers have to absorb messaging from countless companies competing for screen space – whether in an email inbox, SERPs or remarketing banners on sites.
It's like waking up on Christmas morning with a huge pile of presents under the tree – how do you know which one to open first? And how do you avoid the parcels containing cheesy ties, ugly jumpers and silly socks?
Fighting the Festive Avalanche
As any savvy gift-giver knows, it's not just about offering the biggest present in the pile – it's all in the way you wrap it. Your Christmas campaigns are just the same.
So how do you stand out from the crowd? A good headline with relevant wording goes a long way towards making sure your email is the first one opened, your banner is the one that gets clicked, or your paid search ad gets a good click-through rate (CTR).
Take 'Merry Christmas' and 'Happy Holidays', for instance. According to research from Rasmussen Reports in 2012, 68 per cent of American adults prefer 'Merry Christmas', compared to only 23 per cent who prefer 'Happy Holidays', leaving nine per cent unsure either way.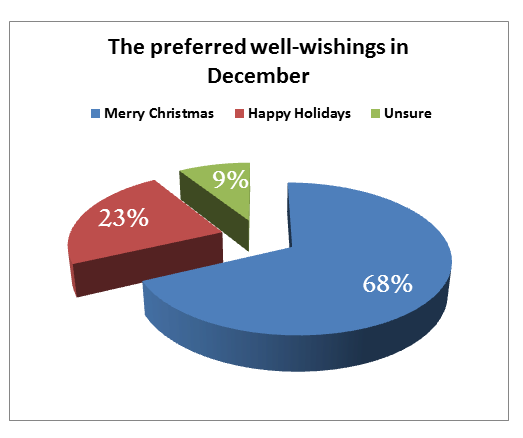 Using Google Ngram, a tool which tracks the usage of words and phrases in literally millions of books, it is even easier to see a preference for 'Merry Christmas' over 'Happy Holidays' (across Google's entire English corpus).
If we take another example, 'Father Christmas' vs 'Santa Claus', it is more of a close-run thing.
Interestingly, Santa Claus is more prominent than Father Christmas, despite Father Christmas often being considered as more synonymous with the festive season in the UK (this example was using only books featuring British English).
This is further evidence as to why testing variation is so important. So take note of your messaging and results this year, next Christmas you can optimise accordingly and see if you can increase your conversion rate even further, simply by including words and phrases like these.
So, perhaps as your New Year's resolution, you should perhaps put this testing into practice and make changes accordingly.
MERRY CHRISTMAS!