We have been awarded 'Best Mid-Sized SEO Agency' by BrightEdge, the industry's leading SEO performance platform.
At this year's Share18 Global Insights event in London, industry leading SEO platform, BrightEdge, presented ClickThrough Marketing with the best mid-sized SEO agency award.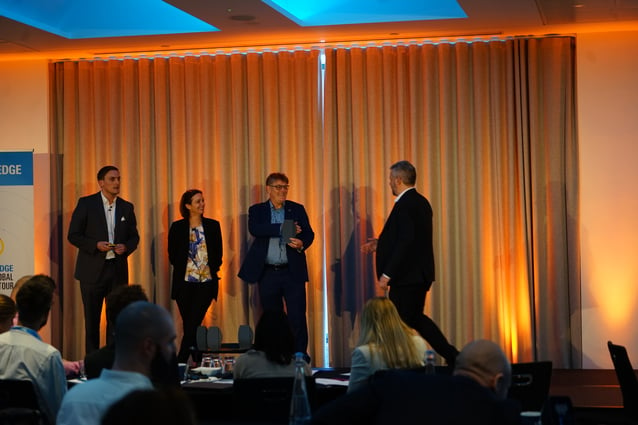 The Share18 Global Insights Tour brought together digital marketing experts, networking opportunities and insightful breakout sessions touching on key trends and updates from the world of SEO. All this culminated in the BrightEdge Community Awards where the ClickThrough Marketing SEO team took home the best mid-sized SEO agency award.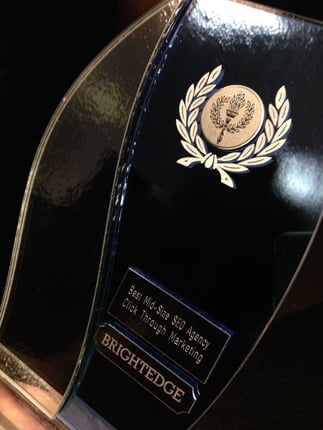 Charlotte Durrant, Agency Partnerships Leader at BrightEdge, commended our successful use of the content marketing platform since it was integrated into our SEO team's everyday processes, just over a year ago.
"Independent digital performance agency, ClickThrough Marketing, were selected for the Best Mid-Sized SEO Agency Award from over 100 submissions in recognition of their excellence in SEO and Content Marketing Strategy. Their innovation and expert usage of the BrightEdge platform combined, deliver industry leading service to an ever-increasing number of distinguished clients; this clearly defined them as the winning agency."
ClickThrough Marketing's Director of Client Growth, Rob Allen, attended this year's event, joining some of this year's most popular sessions.
Share18 Global Insights Tour Highlights
Highlights included sessions on Leveraging Search Data to Improve Customer Experience and The Future of Search.
Leveraging Search Data
In the first session, Michel Kant, EMEA Group SEO Director at Staples, explored the importance of harnessing all the search data that is available to us to adapt and form content that aligns directly with users' intent. By mapping content more specifically to the search data that is readily available to us as marketers, we are now able to directly target buyer personas with content that is purpose built for them.
The Future of Search
In the Future of Search session, the hot topics discussed by Collin Colburn, Analyst at Forrester Research were voice search and Amazon. Colburn explored the way that search is evolving where users are employing a combination of voice search and more complex questions to discover what they're looking for.
In turn, marketers are now required to hone in on the more complex way users are searching to build content that will quickly and concisely serve them.
And as for Amazon? It's already a large part of users' online journey. It is a research channel, with offline influence that already accounts for a huge amount of online sales. Not to mention that 46% of users do not realise that ads are used on Amazon.
Marketers will inevitably have to adapt to the monopoly that Amazon has in the world of search, and as Colburn discussed, it may not be long before a core part of your SEO strategy will include how exactly you work alongside Amazon.
With insightful sessions and key industry trends to work through, we'll certainly be attending next year's Share Global Insights Tour to continue building on the progress we've made this year using the BrightEdge platform.

if you'd like to find out more about our SEO offering, or if you have any questions, feel free to get in touch. We'd love to hear from you.