Richard Chapman rounds up the latest in CRO advice, including the rules of in-built behavioural data, how to supercharge conversions with thank you pages, and a Google Tag Manager's new YouTube trigger.
The Rules Of In-Built Behavioural Data
Brian Massey and his Enclothed Cognition prop are back (and by Enclothed Cognition prop we mean his lab coat, of course) to give us more valuable insight into behavioural science – the six rules of behavioural data, to be exact.
According to Brian,
"We all make decisions every day based on what other people are doing. You are wired to navigate the world using behavioural data."
He discusses the six rules of behavioural data, including
"Larger Sample Sizes Are Better Than Smaller Sample Sizes",

"More Recent Data Is Better Than Less Recent Data"
and
"Quantitative Data Is More Reliable Than Qualitative Data",
and how these can be aligned to your marketing strategies.
Closing his latest thought stream with recognition of the apparent focus on A/B testing, Massey adds:
"as a marketer, you can tap into this innate scientific know-how, using it to predict the performance of your campaigns and make them better."
Supercharge Conversions With Optimised Thank You Pages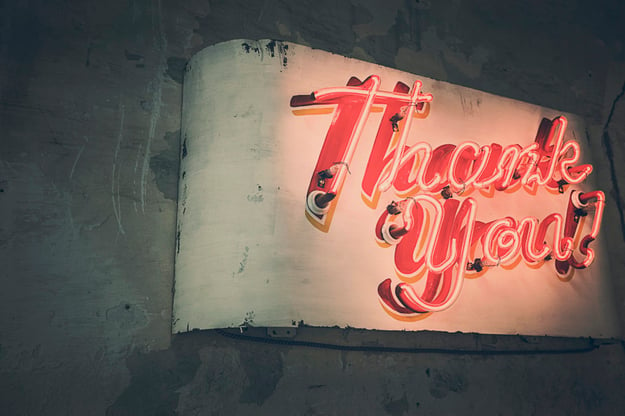 A customer completing a transaction is not the end of the buying journey.
What about your thank you pages?
These provide you with fruitful opportunities for building and maintaining good relationships with your customers:
Links to infographics, blog posts, resources and e-Books
Opportunities for social sharing
Feedback from newbies
Offers and promotions
Instil trust
Thank you pages are where you can afford to present different avenues for your customers, knowing they've already converted.
Directing them to a successful blog post or even to an e-Book download will help increase the engagement of your site and the chances of future conversions.
Not only that, but your customers will trust you. And then, the likelihood of them returning to you increases.
Tag Manager - New Trigger For YouTube Videos
Word on the street is Google Tag Manager has announced a YouTube Video trigger, which permits in-depth video tracking.
This new trigger is sufficiently thorough and supports "dynamically-inserted" videos, so they can automatically load without having to wait for user interaction.
Check out this feature's configuration options:
Capture – Start– collects a start when the user starts watching the video.

Capture – Complete – collects a complete when the user reaches the end of the video.

Capture – Pause, Seeking, and Buffering – collects a pause when the user pauses the video or jumps forward or back, and buffering when the video starts buffering due to lack of bandwith.

Capture – Progress– collects a progress the moment the user passes either a percentage or time threshold (e.g. 25%, 50%, 75% or 10 second mark, 30 second mark, one minute mark).

Advanced – Add JavaScript API support to all videos– if your YouTube embeds lack the necessary enablejsapi=1 parameter, you can check this to automatically add it to all your videos. NOTE! This reloads the iframe, so users might see the video flicker when they first load the page. This option, when checked, also adds the required https://www.youtube.com/iframe_api library to the page.
Do you have any thoughts?
Thinking about how you can turn more of your website's visitors into paying customers? Contact our conversion optimisation experts for more advice on converting traffic into sales.