Dr. Dave Chaffey provides his expert insight into using the Demographics and Interests report in Google Analytics.
In last month's article on the ClickThrough Marketing blog I talked about the new insights on search marketing available in Google's search console. Following on from this, here's another less well-known feature in Google Analytics, which provides interesting insight on visitor demographics for marketers.
I'm 'flagging it up' since in a couple of recent consulting workshops I've recommended taking a look at the Demographics and Interests report in Google Analytics, but the marketing managers I was working with were unaware of it and they thought it was a useful new insight.
Here's an example of the insight available. It's available under the Audience, Demographics section in the left navigation. You can see the Male / Female breakdown for your site visitors and you can also see the age breakdown too.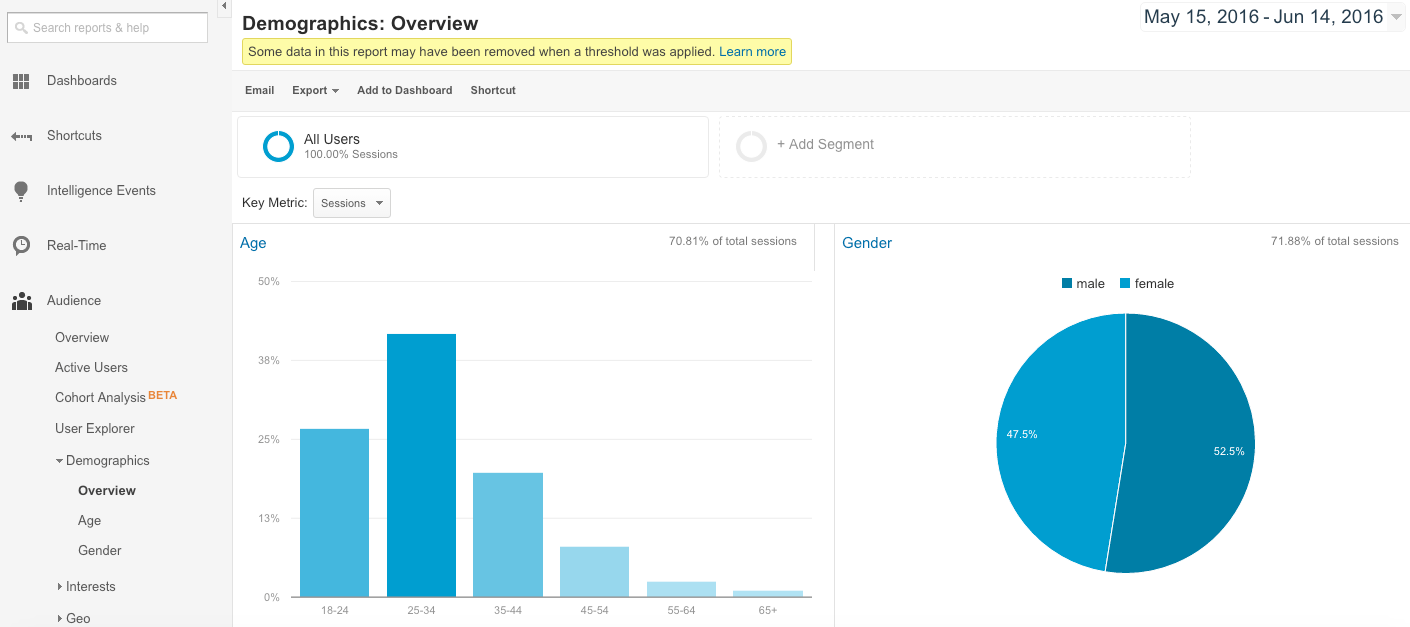 No doubt you will be thinking, what is the source of these demographics? Well, it's based on Google's ownership of the Ad network Doubleclick from which they're able to share profile information collected by publishers. The data is linked by cookies or web browsers who use Google Accounts. The chart in Google Analytics shares the percentage of people who Google can positively identify in this way.
How to Enable Demographic Interest in Google Analytics
To access this data, you first have to enable it as this Google Analytics Help page explains. There are two places you have to enable it.
Enable Advertising Reporting Features for your property
Enable the Demographics and Interests reports for the view
Once you have access to this data there are several questions you can ask to create further insight. An obvious question is how the data for your site compares to customers acquired or contacted through other channels. Your online channels may be good for reaching new audiences, but not so strong for reaching traditional audiences.
You can combine this data with segments in Google Analytics, which is powerful to see how different types of visitors vary in their demographics. For example, you can see how demographics vary for mobile visitors, visitors using search, visitors arriving on different landing pages, visitors browsing different product categories, converting visitors or returning visitors.
This demographic data in Google Analytics uses the same age, gender, and interests categories that are used in Google AdWords to target ads on the Google Display Network. So, you can check how well your ads are reaching your preferred target audience and adjust them. You can also tap into Google's affinity categories, which define interests that can also be used for AdWords targeting as explained here.
Want to gain insight into your website's performance but not sure where to start? Discover how our Google Analytics Consultancy services could help your business. Contact us today.