Integration is high on our list of priorities here at ClickThrough Marketing. Here, we give you an insight into some of our most recent integration activities and actions, and explain our new CLICK principles.
Here at ClickThrough we pride ourselves on offering an integrated digital marketing platform to our clients.
Our vision is to be the UK's leading provider of conversion-led digital marketing services and technology. Our mission is to help our clients increase leads and sales. In the ever-evolving digital marketplace – standing still is the same as taking a step back. That is why we continually refine our integration policies – to improve our service delivery to our clients and to ourselves.
Our core integrated digital marketing services include:
Paid Search/Social, Display & Remarketing
SEO, Social & Content Optimisation
Inbound, Content & Automated Marketing
Web Design & Development
Analytics & Conversion Optimisation (CRO)
We integrate across paid search, SEO, content, CRO and web development. But what we want is to push ourselves to become better – both internally and for our clients, to deliver better results, better value for money and less budget wastage.
Ten People – One Common Goal
Our integration user group consists of 10 team members split across SEO, content, Web Development, CRO and PPC– two from each department. In our most recent integration meeting these ten team members were given five questions and asked to collect feedback from other members in their team.
The questions:
What do you think is important to make integration work?
What information should we be sharing?
What aspects of integration do we do well?
What integration are we missing and what are the challenges?
What are the different departments' responsibilities?
Once the whole team's input has been collected the user group comes together to talk through each of the questions and their team input.
Let's Talk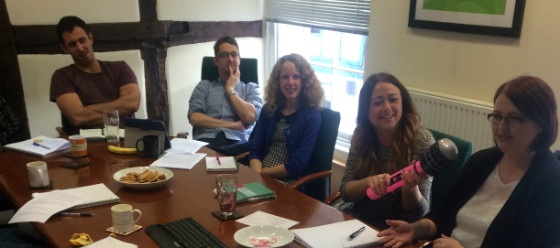 At our last integration catch-up, an inflated microphone was brought in to an element of fun to the meeting. However, its job was to get everyone in the user group to talk.
"It is challenging as you have to take the emotion out of your job, and everyone here is very passionate about what they do," said Zoe O'Neil, director of paid search at ClickThrough Marketing. "It makes us question how we work with one another and our clients. And it gives us the opportunity to consider long-term goals and short-term immediate actions."
The biggest underlining message of our integration sessions is that, in order to make integration work you need to be able to communicate. It sounds simple, but for a multi-faceted agency dealing with a wide variety of clients across numerous industries, knowing what to communicate and when is not always obvious.
Knowledge Share
We ask what we need to share on a client basis. Team members are often working on accounts together, so it's about considering the communication stream. If web development is creating a site, team members in SEO, content and PPC need to be kept informed of progress so that they know when they need to step in for the next part of the project.
We consider what level of information we need to be sharing on clients from a mobile v desktop perspective, and how each is different for paid and organic search. This is especially important for eCommerce clients, where we need to measure the impact on CTR in shopping and organic search. We need to ensure that we are looking at things on all levels.
We also ask how do we share industry insights? We create great industry news roundups, and promote a Share a Post email each week. We take that a step further and ensure we create well-rounded, integrated content across the site.
We look at how we work with our clients and what demands we place on them. Each department wants the client to do something, so we need to understand that we need to help the client prioritise together and be considerate that the client has a lot to do for us, as well as the other way round.
Cross-Department Training
We have a great buddy system in place, whereby everyone gets the chance to learn what other departments do.
Our digital academy and knowledge sharing sessions ensure that everyone has access to industry learnings – maximising on our skills set.
We realise it's important to have a holistic view of what our client services are.
We even look at our internal file structure and how we integrate our internal administrative processes.
We Need to Click
The result is that we need to CLICK. We've devised a check-list of principles to work towards:
C - consideration – for team members and clients. Understanding their deadlines and time restraints.
L - learning – about the client, about the industry, and then sharing
I - insight – looking at the impact of our strategy across each of our services and relating that back to the client. For example, looking and how each element of digital marketing can impact on Quality Score
C - communication – with each other, with clients, and with the industry.
K - knowledge – our buddy system is all about knowledge share, but we need to do more to gain a strong overview of the industry and our client's needs.
Creating an Action Plan
Our findings are disseminated to the whole ClickThrough team to give them goals on what they can be changing now and in the future.
We implement a two-monthly review plan to look at what we do next. We need to be constantly reviewing ourselves. Integration can never stop because digital is ever changing.
To make integration work we've got to click!