Richard Plant outlines the latest in e-commerce news and trends including forecasts that the European B2C e-commerce market will achieve more than €500 billion in sales in 2016, Ted Baker reports 30% increase in e-commerce sales, and news the majority of small businesses still haven't adopted an e-commerce website.
Europe's E-Commerce Market to Hit €500 Billion
Europe's B2C e-commerce market is tipped to break the €500 billion mark this year, according to a report by Ecommerce Europe, an association representing 25,000+ companies selling goods and/or services online to consumers in Europe.
In 2015, the e-commerce market achieved €455.3 billion, with this set to reach €510 billion by the end of 2016.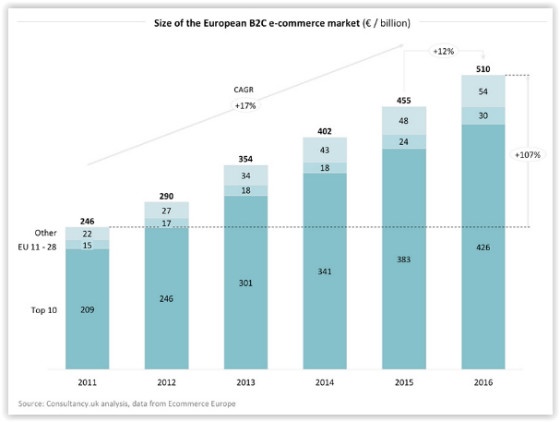 Large e-commerce markets such as the UK, France and Germany are leading this growth. The UK currently has an e-commerce turnover of €157 billion, making it a definitive market leader.
e-Commerce Sales up 30% for Ted Baker
British fashion and lifestyle brand Ted Baker has reported a 32.3% increase in global e-commerce sales for the 19 weeks to 11 June 2016.
The surge follows the launch of its first local language website in Germany, which now accompanies local e-commerce sites for the US, Canadian and Australian markets, along with its flagship site tedbaker.com.
Ray Kelvin, founder and chief executive of Ted Baker, said the brand would continue with its multichannel growth strategy.
Majority of Small Businesses Shun e-Commerce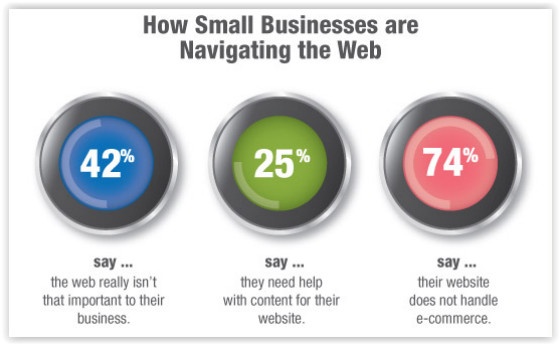 A recent survey by SurePayroll has found that 74% of small businesses don't have an e-commerce-enabled website.
Of those businesses surveyed, 42% said that the web wasn't important to their business. However, 20% wanted more help with website design and functionality, while 25% admitted they could use more content on their site to boost sales.
SurePayroll found that 52% of those with websites had hired an agency to do the website work for them, with 74% of those websites being mobile responsive.
UK Businesses Remain Undecided on EU Referendum
The latest poll results and infographic from Smart Currency Business shows that UK businesses remain on the fence when it comes to the EU referendum.
Out of 205 respondents polled on the question 'How will you vote in the upcoming EU referendum?' 50% selected 'Vote Remain', 46% selected 'Vote Leave' and 3% were undecided.
The international money transfer company then detailed arguments to Leave or Remain in an infographic.
More E-Commerce News and Advice
Take a look at our last e-commerce news roundup: Mobile E-Commerce Purchases Rise in 2016
Want to boost your e-commerce sales capabilities? Download your free eBook How to Build an e-Commerce ROI Forecast for Paid Search.