Tom Williams details the latest in SEO news, including editing Knowledge Graph cards, link network penalties in Japan, and changes to Google's right-to-be-forgotten rules.
Google Gives Editing Rights To Official Representatives Of Knowledge Graph Cards
Google has started to allow official representatives of Knowledge Graph boxes in SERPs to edit the information within them.
Essentially if you come across a Knowledge Graph box in SERPs associated directly with your Google account – this could be your biographical information or company information – you will be granted permission to edit it.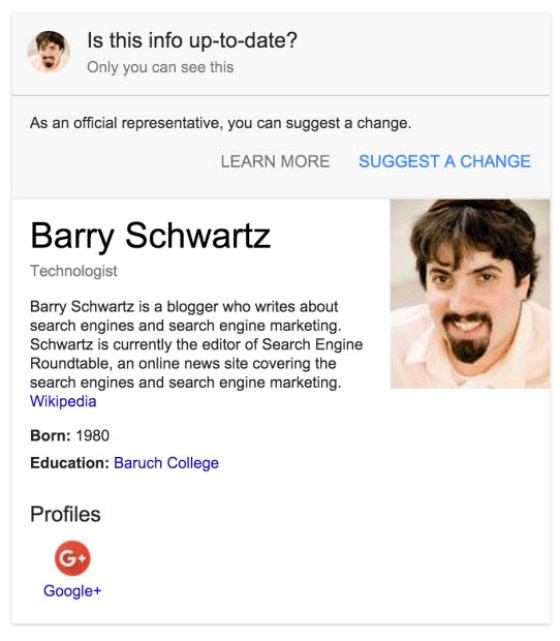 If Google recognises the connection between the information and your Google account, it will present a box that says, "Is this info up-to-date?" adding, "only you can see this. As an official representative, you can suggest a change."
If you need guidance on adding information you'll be able to access a help article.
Google Japan Announces Link Network Penalties
According to the Japanese Webmaster blog, Google Japan has recently issued a penalty to a link network for manipulating Google SERPs rankings.
The blog outlines that the penalty was issued as a counter-measure against the link network that was operating by buying and selling links to manipulate search results.
The blog also warned webmasters to regularly check that outsourced SEOs are not conducting this kind of work on their site, as they will still be penalised for this kind of action happening.
Google Will Remove Right-To-Be-Forgotten Links Worldwide For European Searchers
Where a right-to-be-forgotten request has been made, Google will ensure that the links will not be shown regardless of the Google version used.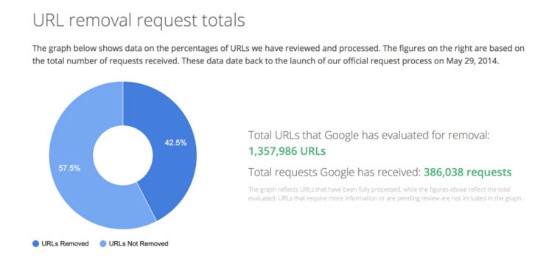 Currently, Europeans can request that a link is removed by Google that could be seen to violate their privacy or cause them harm. The link should be specified as well as the search terms that correlate to the link.
Google will then do the following:
Remove the links for the specified search terms. They will however, appear for other search queries.
Remove the links for its European sites.
Keep the links for all searches in all non-European Google versions.
But with this new update Google will ensure that the links will be dropped from all editions of Google worldwide, for any user that is searching from the European country where the request came from.
Why the change?
CNIL threatened Google in 2015 with a fine of €150,000 for failure to apply the right to be forgotten on a worldwide basis. Reuters confirmed that the change will come however, it remains to be seen whether CNIL will continue to press Google for the complete removal of the requested links, as opposed to just removing the links for users in the country where the request was made.
Google Clamps Down On Polish Hackers
A Google representative confirmed that their spam team are now looking at the case of a Polish hacker who has been stealing Webmaster rankings.
The issue started in January 2016 when the hacker tricked Google into thinking that its site was the original one and should rank above it.
Google's Michal Wicinski stated:
If you see spam in the search results (in this case the content added to the site as a result of burglary) Take advantage of this form. Such notification can expedite the detection and removal of spam from search results.
The issue has yet to be completely rectified but the Google search quality team are taking a closer look at the hacker's activity and how it has affected other sites.
Whiteboard Friday – Optimising for Competitors' Keywords
That contentious issue of whether to optimise for your competitor's branded keywords rears its ugly head in Rand Fishkin's latest Whiteboard Friday. Fishkin details how to take on optimisation for your competitor's keywords in the smartest way possible and how to determine their value to your site.
More Search Engine Optimisation News and Advice
Read last week's SEO news roundup: Google Adds JSON-LD Support
Need guidance on technical SEO best practice? Download your free Technical SEO Best Practices eBook today.