Google is running a test within AdWords which adds a text button to paid ads at the top of SERPs. The new text ad extension is designed to allow users to contact advertisers via text message or SMS.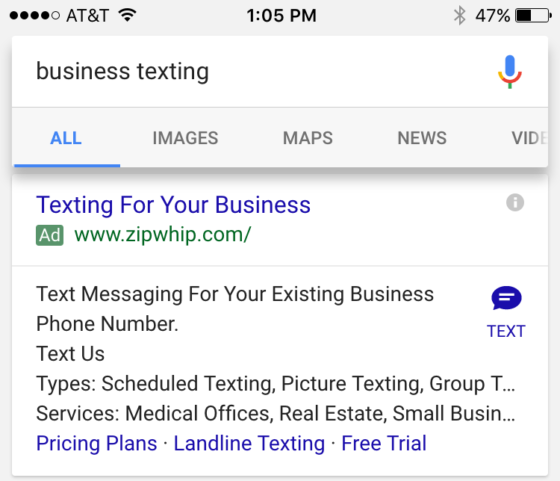 Clicking the text icon will open your default messaging app and automatically load an already populated template with the advertisers' information. For example, for www.zipwhip.com/, the pre-populated message will read "[Zipwhip] I'm interested to learn more about Zipwhip."
The text feature currently in testing is very similar to the AdWords call button, appearing alongside paid ad snippets at the top of SERPs in the same layout, with a small icon and the word 'TEXT' below. Below is an image of the two ad extensions alongside one another.
When Search Engine Land reached out to Google for additional information, they were presented with this statement.
We're always experimenting with new ways to connect our advertisers to customers but don't have further details to share at this time.
Currently, this feature is still in testing. And as of yet it is unclear whether or not the new text button will be added to Google AdWords permanently.