Google has downplayed the significance of the recent unconfirmed algorithmic change, referring to the changes seen as normal fluctuations.
At the beginning of September, many webmasters began to see major fluctuations in their organic rankings. The data collected by algorithm tools from RankRanger, AccuRanker and Moz supported what webmasters claimed.
As of yet, Google has not released anything official confirming whether it is an algorithm change, a bug, or something else. However, Google's John Mueller has reached out on a few occasions when questioned about the ranking fluctuations.
John Mueller commented that the fluctuations were caused by 'nothing specific' - confirming that the changes are not due to the much awaited Penguin update - when he responded to SEO, Vlad Rappoport, who was asking about the algorithm change:
On 16 September, John Mueller took to Twitter again to reinforce the point that the fluctuations seen were not part of any update.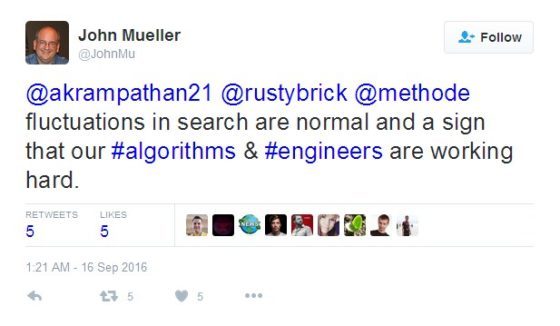 Although John Mueller has said that the fluctuations are normal, and there have been no recent algorithm changes, many SEOs think differently, as they continue to see unnatural spikes and fluctuations in rankings that do not usually occur.
Without an official statement from Google confirming the reason behind the fluctuations, any explanations remain as speculation.
For more coverage on the story, visit Search Engine Land.