*Story updated on 14 September 2016
Google has officially unveiled expanded text ads (ETAs). Announced on 26 July 2016, Google stated that expanded text ads have now started rolling out to all advertisers globally. As of 26 October 2016, standard text ads will no longer be accepted in AdWords.
Earlier this year, Google removed right-hand side ads in SERPs to make user experience more consistent across all devices including desktop, mobile and tablet. This has led to one of the biggest changes to Google's ad creative since the launch of AdWords 15 years ago.
Expanded text ads will ensure that all ads across all screen sizes will feature two headlines of 30 characters and one description line that is 80 characters long. This will give advertisers almost 50% more ad copy to take advantage of.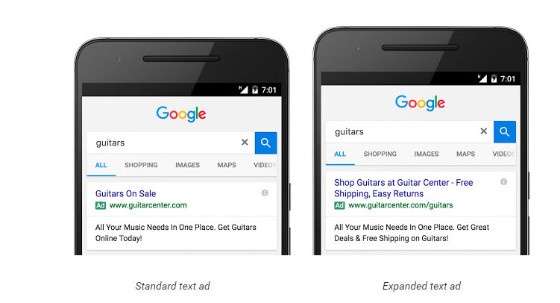 Research has shown that longer headlines are increasingly useful to mobile users as they give them more information before they click through.
Google shared some ETA success stories from well-known brands including EE, and L'Oreal, who have been preparing themselves early on in the changeover and seeing excellent performance from the changes.
How To Prepare for The ETA Roll Out
In the run up to the changeover from standard text ads to ETAs, Google has published a best practice guide offering the following advice to advertisers:
Test multiple ETAs for each ad group and assess results before deleting standard text ads
Don't forget to include vital information about your brand and other successful components from your standard text ads such as price and keyword insertion
Focus on the impact your headlines will have as they will be the most noticeable part of your ad
UPDATE
On 26 July 2016 Google announced that expanded text ads had started rolling out to all advertisers globally and that as of 26 October 2016 standard text ads would no longer be accepted in AdWords. We were informed on 14 September 2016 that this deadline has been extended to 31 January 2017.
Google has not given a reason as to why it has extended the deadline. However, our Director of Paid Search, Zoe Bates, believe this is because the adoption of expanded text ads has been good and the extended deadline is to give Google's Search Partners time to get ready for ETAs. Google has always stated that advertisers need to have one standard text ad running until the deadline has passed.
"We have run isolated tests on ad groups, switching off standard text ads. During the test period, when switching off text ads, we saw huge drop offs in impressions, which backs up our assumption that this deadline change is related to Search Partners. We are fully ready to run expanded text ads for all our clients, as we have been working to the original deadline and we will continue with the momentum to upgrade."
Ensure that you're fully prepared ahead of the changeover on 31 January 2017. If you need support to fully optimise your expanded text ads as well as assessing their performance before making the change, our team of PPC experts can offer you the support required for a seamless transition – get in touch with ClickThrough Marketing today for more information.