Google is testing a new change to its search engine results pages (SERPs), with paid ads' star ratings being replaced with a positive rating percentage.
Google has featured star ratings next to the paid ads in search results since June 2010. Now, Google is running a test that takes those star ratings away, and replaces them with a light grey positive rating by percentage. Peter Lavelle, a digital marketer, sent a screenshot of the test to Search Engine Land: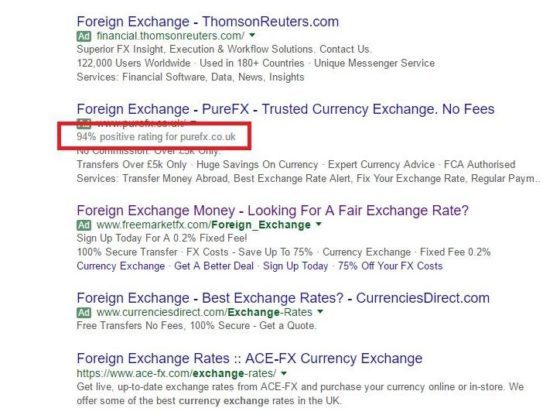 Although shown working on desktop web by Peter Lavelle, it is unclear whether or not it has been replicated by anyone else. When Ginny Marvin of Search Engine Land tried to replicate the test, she was presented with star ratings on both mobile and desktop.
Google's Sundeep Jain said in a keynote discussion at SMX Advanced that the reason for changing the ad label colour from yellow to green was to cut down the number of colours on the search results pages. Ginny Marvin stated that perhaps the removal of the bright yellow star rating is another step towards that effort.
As of yet, it is unclear whether the changes will remain, or if we will see star ratings return in the near future. And if the new percentage rating does remain, we cannot yet confirm if it will affect paid ads only, or organic listings that include star ratings as well.