Google has updated its Search Console's 'Search Analytics' section to make reporting for Accelerated Mobile Pages (AMPs) more granular.
A new Google Search Console feature has brought more granular AMP reporting to the Google Search Analytics section. With the new update, publishers can filter between the performances of AMPs that show up in the rich card section of SERPs, comparable to the performance of AMPs in the regular, core mobile search results.
Google announced this information globally on Google+.
"To make it easier to differentiate between how your AMPs are being shown, you can now filter between AMP article rich results & normal search results shown as AMP."
The new feature is easy to use, and simply brings a drop down filter to Google Search Console's Search Analytics section that allows users to choose either AMP articles in rich results, AMP articles in core results, or both.
Here is a screenshot of the new Google Search Console AMP filter feature, as posted by Google on Google+.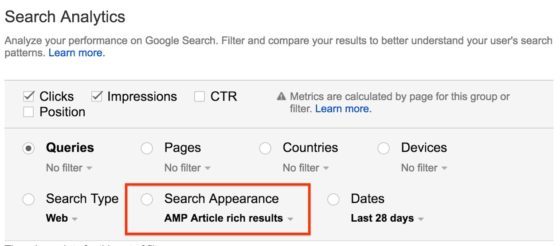 This feature isn't the first time Google has added an AMP filter to the Google Search Console, it was done back in May 2016. However, that was implemented before Accelerated Mobile Pages were launched to mobile search globally, and the option to select specifically core results was not available.