Google revealed a new filter function in Search Console yesterday, 22 December, which provides data on your 'install app' button in mobile search results.
Google Webmaster Trends Analyst, Zineb Ait Bahajji announced this improvement for app developers, which will create a new report under 'search appearance' in Google Search Console.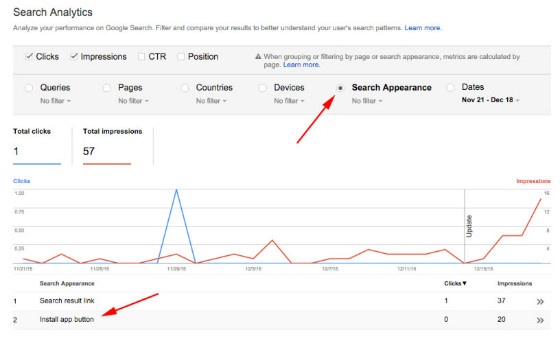 This means that Search Console will now show you how many users have clicked on your 'install app' button in search results, allowing you to segment the data by setting the filter function to keyword or country.
However, it's important to note that the data will not tell you how many users actually downloaded your app, just how many clicked on the install button. You also need to ensure you verify your app within Google Search Console to view this data.
Post Mobile Algorithm and App Indexing
Google launched the Mobile algorithm back in April 2015 and improvements in app indexing shortly thereafter.
Prior to this update, apps would only appear within search results if you already had the app installed on your phone. Now, Google will return an 'install app' relevant to users' search queries offering digital marketers the opportunity to fully optimise their app content to increase their visibility for a better chance of users installing their app via SERPs.