Google has announced that it will be cracking down on "intrusive interstitials" on the mobile web, starting in 2017.
An intrusive interstitial is a type of advert that opens while a webpage is loading up. Google has confirmed it will be cracking down on these adverts, stating that such ads "can be problematic on mobile devices where screens are often smaller."
Google said: "Pages where content is not easily accessible to a user on the transition from the mobile search results may not rank as highly." Google has set a deadline of 10 January 2017, so pages still featuring intrusive interstitials after that date could be penalised. Google has highlighted which interstitials it sees as problematic, and which ones sites will get penalised for:
Pop ups that cover the main content
A layout that shows the above-the-fold portion of the page as an interstitial
Standalone interstitials that have to be removed before content is visible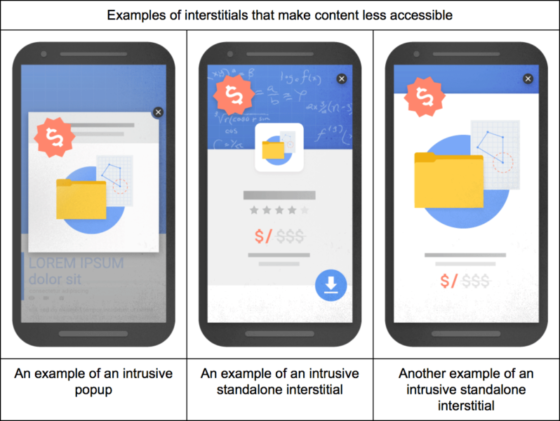 However, Google has also made clear that – if used responsibly – some interstitials are fine to use, including:
Cookie usage interstitials
Age verification interstitials
A top or bottom banner advert that doesn't take up too much room
Google also released an image to demonstrate acceptable interstitials: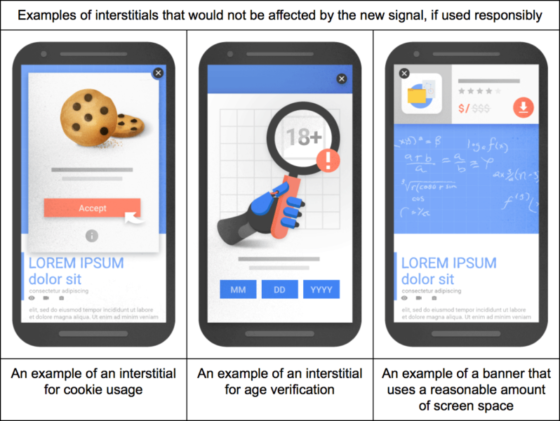 This crackdown is not due to happen until 10 January 2017, but Google has announced it early in an attempt to provide site owners with the time needed to remove intrusive interstitials from their sites.
We will report further on this warning when the penalty comes into play.