This month, Dr Dave Chaffey reviews some of the latest changes to Google Analytics. Changes to Analytics' menu structure, he argues, are making it easier to take an outcome-driven approach to digital marketing.
In my September post for ClickThrough Marketing I explained how it was essential for businesses to go beyond reviewing volume trends of visits and unique visitors in Analytics and look at the full set of VQVC measures - that's volume, quality, value and cost.
Businesses who understand the commercial importance of Analytics to review performance against target values will likely already be reviewing the quality and value measures through their dashboards.
For those who weren't, this was partly because the way Google's menus and reports were structured didn't encourage focus on quality and value. By coincidence Google has now created a new set of reports which helps support a more marketing outcome driven mindset.
As you can see in the example, Google has created what it calls ABC Metrics groups which can be found in the new Overview and Channels Reports in the Acquisition menu - check them out if you haven't already!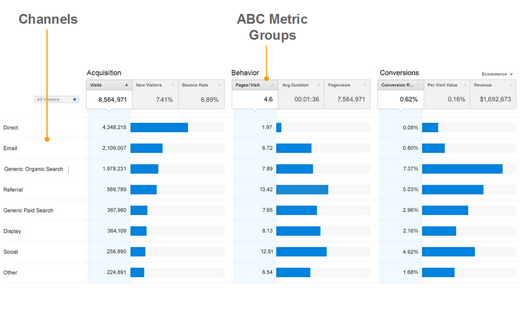 The new reports clearly show the breakdown of ABC across different marketing channels. For me, this is a huge improvement. Previously, conversion measures were on a separate tab which I know from training sessions, many ignored. The reports also work well for time-based comparisons - you can now more readily compare the current week or month to the previous one to see how the volume and quality of traffic has changed.
In the chart, you can see that the Acquisition metrics mainly relate to volume of visits, but also include quality in the shape of bounce rate (a higher bound rate indicates lower quality, less engagement with the site). The behaviour measures are all about quality of the visits including pages per visit and duration. The most useful are the conversion measures showing the value I mentioned in the last post including conversion rate (again part of quality), revenue and per visit value. You can select Ecommerce value as in this example, or select other goals which may have value assigned if it's a non Ecommerce site.
If you're a regular user of Google Analytics the change can take a bit of 'getting your head around', since not only have new reports been created, but menu options have been changed as follows:
Traffic > Acquisition
Content > Behaviour
Conversion > Conversion
Google's new update was featured in their annual conference and explained in this blog post encouraging business to enable their marketers to Act, Empower and Access. This is a good call-to-action for every business who could be making more use of Analytics!