In his featured post this month, Dr Dave Chaffey looks at Google's new tool for tracking customer journeys across multiple channels.
Have you seen Google's new digital media benchmarking tool The Customer Journey to Online Purchase? You may not have seen it, since although it uses data shared from companies using Google Analytics, it's not part of a benchmarking facility within Google Analytics. Instead it's built into Think Insights, Google's corporate marketing advice channel. To access it, visit Think Insights.
The purpose of the tool is to help marketers better understand media campaign attribution, i.e. determining which channels influence sales at different points in the customer journey. For example, a prospect who hasn't previously visited a site will often be prompted to visit a site via social media, a display ad or an AdWords ad for a generic search phrase. They may purchase straightaway, in which case the channel referring the visit will be credited with the "last click" or "last interaction" sale by Google Analytics. However, often - particularly for a high value, higher consideration product - the prospect won't convert straightaway. Instead, they may convert on a later visit and won't be attributed to sale using the last click model. Attribution enables us to gain an idea of how channels influence earlier in the customer journey by recording them as Assists.
Here's an example of data from the tool. It's for a travel company, you can see that attribution is particularly important in this sector since 48% of of revenue comes from purchases made in more than one day. The coloured bars on the right suggest that display clicks and email tend to be more influential in assisting purchase compared to paid or natural search for instance, although they account for half of the assists. Google has developed this tool to prompt marketers to invest more in media (such as AdWords campaigns for generic phrases) that assist with Assists!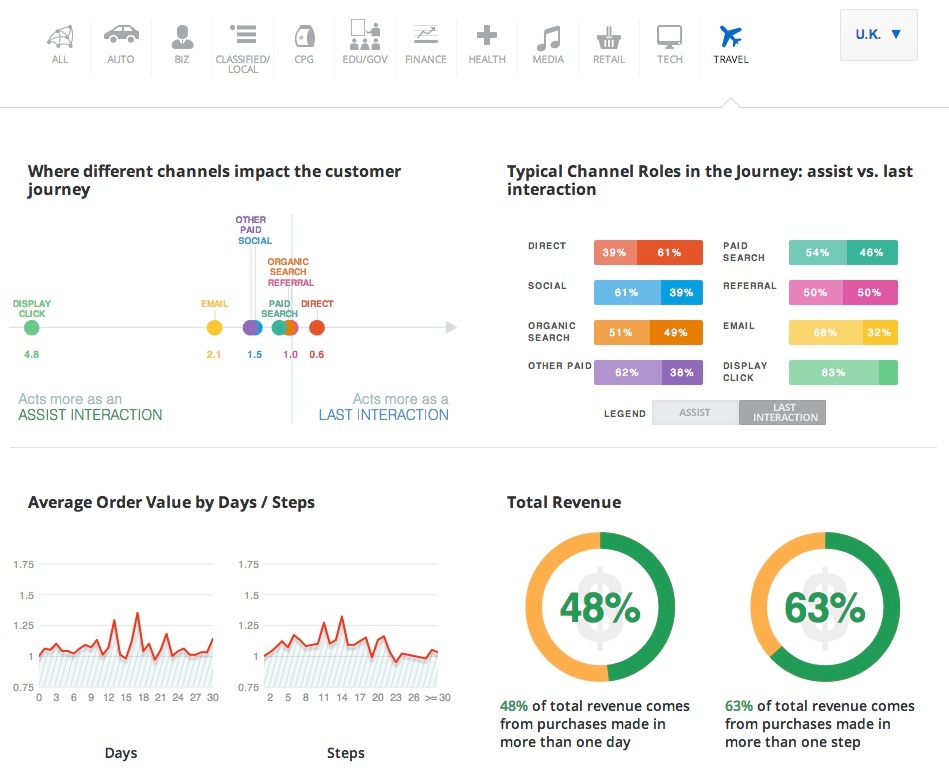 The benchmarking tool covers data for these countries:
Brazil
Canada
France
Germany
Japan
UK
US
And these industries:
Auto
B2B
Classified/local
CPG
Edu/gov
Finance
Health
Media
Retail
Tech
Travel.
It can help you compare your customer path-to-purchase with others in your sector based on:
Mean days to purchase, e.g. % of total revenue from purchases made in more than one day.
Typical channels that act more as an assist interaction (typically display, social media and paid search) compared to a last-click interaction (typically referral, organic search and direct).
Average order value (AOV) by days - this doesn't vary much.
How valuable do you think the tool is? I personally don't think it's that actionable since the categories are quite broad, but I mention it as a prompt to review the proportion of assists and last interaction sales for your company. This information is available through Google Analytics through the Multichannel Funnel reports which are a little hidden under the Conversion menu in Google Analytics. They have been available for two years - how to interpret them is explained in this introduction to Multichannel Funnels by Tim Leighton-Boyce.