Google has officially launched its 'mobile-friendly' label in mobile search results, and says it is experimenting with using the label as a ranking signal.
The official announcement, made via its Webmaster Central Blog yesterday, comes after weeks of testing - with Google trying out several variations of the label, including 'mobile-unfriendly' icons.
Google says the label is "the first step in helping mobile users to have a better mobile web experience". It also provided an example of what the label looks like: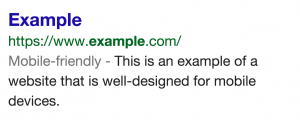 The search giant has been making lots of references to mobile user experience recently, following confirmation that its search spiders can now see a better approximation of what users see when they visit a page (Search Engine Land). This has led to speculation that Google may be considering rewarding pages that provide positive mobile experiences with better rankings.
Until now, the closest thing we've had to an out-and-out confirmation is a statement from a Google employee, saying:
"Because at Google we are aiming to provide a great user experience on any device, we're making a big push to ensure the search results we deliver reflect this principle. We want users to be able to enjoy the web wherever they are."
Now Google has
confirmed
it is indeed "experimenting with using the mobile-friendly criteria as a ranking signal."
Needless to say, it's more important than ever to ensure mobile sites are optimised for users. Google provided the following criteria determining which sites are worthy of the 'mobile-friendly' label:
Avoids software that is not common on mobile devices, like Flash
Uses text that is readable without zooming
Sizes content to the screen so users don't have to scroll horizontally or zoom
Places links far enough apart so that the correct one can be easily tapped
News brought to you by ClickThrough – experts in SEO, PPC and conversion rate optimisation services.