ClickThrough paid search account manager Sam Thomas has been keeping her eyes on Google's recent tests which flag paid search ads with a yellow 'Ad' symbol. Now, she's ready to jump into the debate…
Recently, Twitter user Paul Rogers pointed out that Google is running tests to display top-position paid search ads on a white background for desktop searches, rather than putting ads on a faint yellow background like we're used to.
This format has been running on mobile devices for a while, and now we've seen it for ourselves on a desktop search: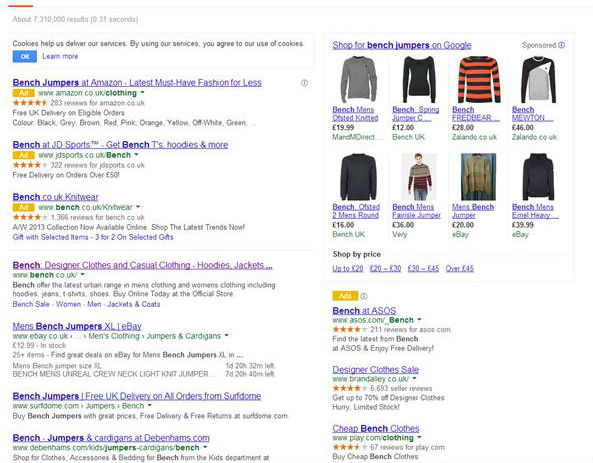 As you can see, in the format Google's testing, the yellow background is gone, but there's a bold yellow 'Ad' symbol next to each paid search ad.
Is this something to keep an eye on? Yes.
How would these changes affect click-through rate? Potentially quite significantly.
The Current Situation
A fair few people have suggested the average Google user is often unaware they're looking at, or clicking on, advertisements.
Earlier this year, domain registration company 123-reg.co.uk conducted a survey which appeared to confirm these suggestions. The firm asked people in a range of age groups if they had spotted ads when searching on Google, and half said they hadn't.
Surprisingly, the supposedly web-savvy 18-24 year-old age group scored worse than the average when it came to spotting ads – with 66 per cent saying they hadn't seen any adverts in the SERPs.
As many of us know, pretty much any search query which can have a product or service associated with it will result in ads showing up. So unless these users were conducting very niche searches, it's very likely they did see ads, and simply didn't realise.
So it would be easy to surmise that with its current 'faint-yellow-background' format, Google may deliberately be making ads difficult to spot.
The US's Federal Trade Commission put out a press release back in June pointing out that guidelines on distinguishing paid search ads from organic results hadn't been updated since 2002, and urging search companies to make the distinction between the two more clear.
Google was only specifically mentioned once, in a list including such upstarts as DuckDuckGo and Blekko. However, considering Google has, at last count, nearly 70 per cent of the US search market, you could be forgiven for assuming the FTC had Google firmly in its sights.
What's Google Doing?
It's difficult to say what Google is attempting to achieve with these tests. Is the search giant trying to make ads more visible, thanks to pressure from groups like the FTC?
However, on Twitter, users were divided as to whether the changes, if implemented, would make the ads clear, or make the distinction between PPC and organic harder to grasp.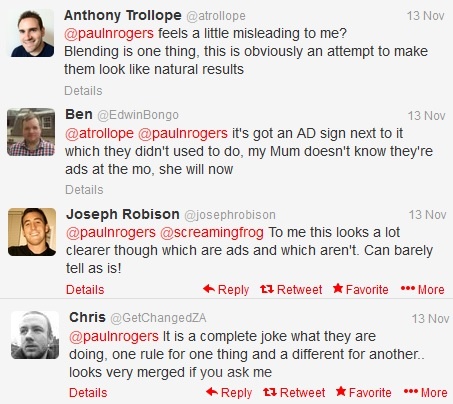 There are two clear schools of thought emerging:
Google is under pressure to make its ads more visible.
Google is trying to make its ads less visible, in order to put more emphasis on PPC.
My personal view? I think the ads are more noticeable.
But it's clear that the changes mean different things to different people, and opens up bigger questions about how people read and make sense of information online.
And there's the rub. Google knows this. And they know that different ways of displaying ads will work differently across desktop and mobile.
That's why it's testing. After all, A/B testing to measure click-through rates and improve performance – is something we all should be doing.
Will the ads stick? My guess is that even if Google is being pressured to clarify the distinction between ads and organic, it will continue this testing stage until it finds the best balance between ad visibility and click-through rate.
So if the ad format is rolled out en-masse, it might not be in the form we see them now.