Hootsuite has revealed some new features to the UK version of the platform, which could make social media marketing endeavours a little simpler.
YouTube integration has been set up within Hootsuite making video content easier to manage. The new content library function that was previously rolled out in the US has now also come to Hootsuite platform according to @Hootsuite_UK
This means that whatever version of Hootsuite is used, (basic, enterprise or pro), all users will be able to take advantage of the new features and a much easier way of managing social media content.
Hootsuite: Connect to YouTube
YouTube content can now be managed and published via Hootsuite UK. This integration will allow social media marketers and brands the opportunity to easily take control of their video content and share it effectively throughout the social media universe. Check out Hootsuite's video below for more information:
Hootsuite Content Library
The content library will allow users to store content within the platform, ready for use at the touch of a button – making workflows much easier to manage. If social media marketing teams face issues of brand compliance when it comes to publishing social content, use of the new content library means that managers can upload the content that needs to be published while the rest of the team can publish when required. This will help social media marketing teams become more efficient, as well as being able to build up a bank of content within the platform to create a steady stream of social posts.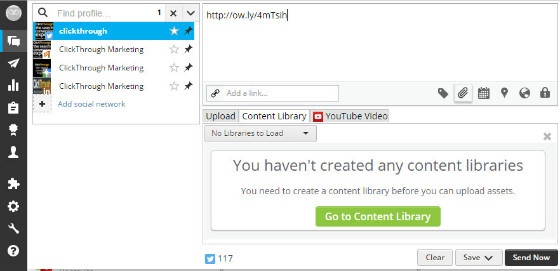 Need more advice when it comes to social media marketing strategies? Contact our social media marketing team for more support.