James Allen takes a closer look at how online businesses use colours to optimise conversions, and how correct use of colours affects the way we buy.
Many people underestimate the importance of colour when designing their online presence. Whether it's logos, website graphics or social media banners, colour is very important, and it is vital that as a business you make sure that the colours you use – and how you use them - align with your intended message and branding. Ultimately, using the right colour for your target customer could have an effect on the way they interact with your brand, and whether or not they purchase your product.
What Goes On Behind the Colour?
People aren't simply attracted to pretty colours. There is research that suggests people associate certain colours with different emotions, and that they make a swift decision about the brand in question based on colour choice. The science behind the influence of colours is undoubtedly a tricky subject to cover, and regardless of the volume of evidence exploring the link between colours and human interaction, it still remains a difficult topic to pin down.
There is some evidence of a link however, and – as the results of various experiments by the College Students Journal shows – many people treat colours with specific associations. For example, the colour green is often associated with nature, leaving people feel calm and relaxed. Red is associated with love, sparking energy. And blue is related to water, which leaves people feeling peaceful.
The feelings and emotions that people associate with different colours often have the same effect upon the majority of people, meaning this is a good platform to base your business colours on. And with split testing, you can begin to understand which colours best reflect your brand and the emotion you would like your customers to associate with your business.
The Right Colours For Your Business
When you integrate colours in to your business' online presence, you must make sure you choose the right colours for the right products. The best way to understand the way colours affect human thought is to take a clear look at what brands use what colours, and why.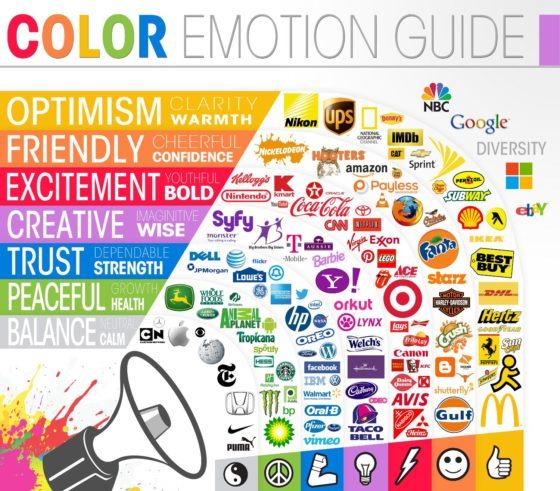 How Businesses Use Colours To Sell
When it comes to putting everything in to practice, you should not only follow the guide above, but take a look at some real world examples too. When you visit your local shop, notice the way that different foods are sold to you. Take a look at something healthy with natural ingredients, the packaging is likely to include a lot of green. In the sweet aisle, you're likely to see a lot of reds and oranges. Notice how the majority of sugar free / low fat foods and drinks are packaged in white.
The reason for this; we subliminally associate different colours with different feelings. Another example to show how colour affects consumers is sale signs. What colour are the giant sale signs that we see in retailers' windows? Red. Because red gives consumers a feeling of urgency and excitement. When shoppers see the huge red sale sign, they feel as if they have to check out the shop, because the sign creates a surge of excitement and urgency.
The X Factor effect
So, what is the X Factor effect? Well, when there is a positive national scale event, people respond well to almost anything related, even if they don't realise it. By following the colours related to the event, people are likely to react positively to your products. The "X Factor" effect is a great way to temporarily gain a good response from consumers. It can attract people to your products, and boost your conversion rate.
Here are some examples of the X Factor effect put in place:
The Roland Garros 2016 French Open was a positive event that saw thousands attend to watch the games, and thousands more to watch the tournament from home. Knowing that the games would be popular and positive, Peugeot released a limited edition collaboration vehicle, sharing colours with the brand – which has so far been successful.
A few years ago during the 2012 Olympics, Coca Cola began selling coke in themed bottles, following the colour pattern of the event. The bottles featured the usual red, along with blue, yellow, green, and black.
Putting Colours in Place for Your Business
Now that you have more of an understanding of the effects that colour can have on your conversions and customer interaction, you can go forth with confidence when designing products and graphics for your online business presence. Use colours relative to your company and the services you provide.
Remember, although correct use of colour can be very beneficial to attracting the right audience and encouraging conversions, it is important to not go overboard. Following a colour set and basing brand colours purely on conversion optimisation is unoriginal, and you may end up taking the edge away from the business that you desired. Create a balance between the two and use split testing to your advantage – this will help you gain the edge over your competitors and get the right balance between building an original brand and taking advantage of the psychology of colour usage.
Need support when it comes to web design and conversion rate optimisation? Talk to our web design team and see how we could conduct A/B testing combined with fresh design to increase your conversion rate.