Successful content marketing has one aim in mind – to convert. Whether that is turning a client into a lead or a sale depends on your business model, but one thing is for certain – the decision-making journey they take is the same.
Your content should be structured to follow this journey: awareness, consideration and decision. Do you have content to meet each of the marketing funnel stages? If not, now is the time to look at creating and scheduling this content.
Awareness: Raising awareness of your product or service is a long game. You might want to start small, with well-timed and positioned tweets and industry comment, lead up to a news blog post talking about developments in your industry or related to your product line, and then come in with a longer authority article to establish your brand as a market leader and start to establish trust with your new-found lead.
Consideration: This is where you need to provide product and service information and address objections. eBooks and White Papers are great at showing off your knowledge, and providing solutions to clients before they even think of the challenges. Customer surveys and industry insights are also valuable – they show you are listening and ready with a solution.
Decision: Clinch the deal with smart, snappy content that underlines all your key benefits, outstanding customer service and brand personality. Own your lead and convert them with your dynamic words.
Elements of Successful Content Ideation
Content ideation is made up of multiple elements which, when brought together, help you to create content which is focused on your objectives, your buyer personas' needs and maximises the opportunities to get your content found.
Using the marketing funnel as a guide is a great way to create content that leads the buyer journey. However, this is only one part of creating your content marketing plan.
This diagram shows how the essential elements of content ideation fit together to build your content marketing strategy.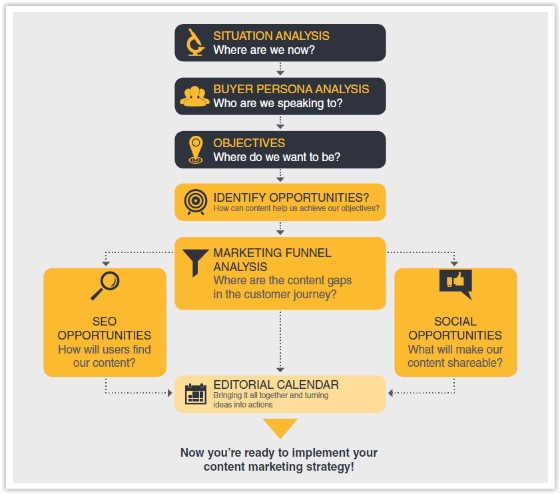 This post is adapted and abridged from our FREE eBook – The Best Practice Guide to Content Ideation
Download your copy now to learn best practice advice on how to use content to improve the quantity and quality of traffic and leads to your website.