Google released a new experimental SERP feature to help the growth of local business earlier this month. The new Google Post Local Business Cards allow businesses to post content directly to Google in the form of scrollable cards.
These scrollable cards are powered by Google Posts, and are currently in test. However, if they are here to stay, Search Engine Land columnist Andrew Shotland warns that they could negatively impact local SEO.
The idea is that the SERP reacts the same to two primary local search queries. For instance, typing "Shoe Shop Wolverhampton" and "Schuh" should have similar search results, showing the shoe store "Schuh" as the top result. Here's an example of the scrollable card highlighted in red: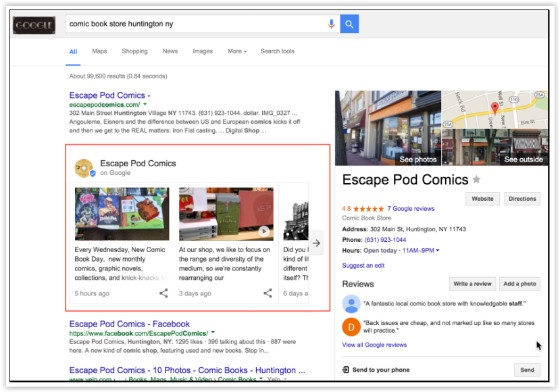 So how will this new feature affect local SEO?
Any non-local business site is going to be negatively affected by the implementation of Google Local Business Cards, according to Shotland. Service area businesses, content sites and local businesses that can't produce this type or volume of content will be most impacted
On the other hand, there are some who will benefit from Google Business Cards. Local businesses that can create this content, spammers who can hijack listings and SEO agencies who can produce and optimise content at scale should win out
Google Post local business cards could dramatically change local SEO, although at the moment, it is unknown whether or not Google will make it a permanent SERP feature. We will keep you posted.
Find out how our Local SEO Services could help you. Want help setting up and optimising your Google Local Business Cards? Contact our SEO team today.