It appears the Internet Advertising Bureau's affiliate marketing website has been hacked by a rogue affiliate hawking dodgy Viagra pills.
The ironic twist of fate was pointed out by John Newton on Twitter, who noticed the words 'Buy Viagra' had been slipped into an article about - of all things - a social gathering of affiliate marketers.
Incredibly, the guilty party has made no attempt to conceal the breach, with the offending link interrupting an otherwise innocuous sentence:
"Seven sponsors (including Affiliate Window) have put some cash up to ensure the drinks flow freely making it the perfect opportunity for people from all sides of the industry (affiliate, agency Buy Viagra, advertiser and network) to chat and share ideas."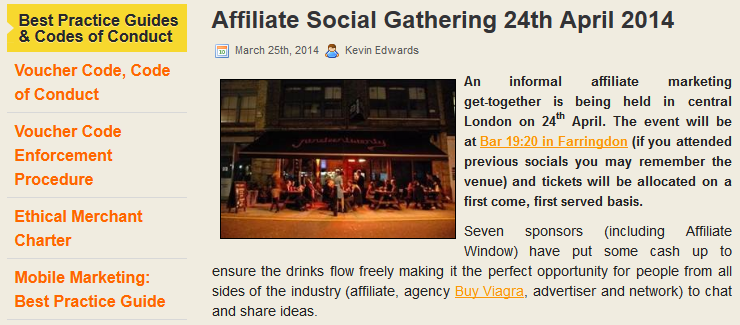 Common wisdom says the digital marketing industry has all but shed these black-hat practices. But for an affiliate to apparently embed a link on IAB's own site shows the dark side of the industry is alive and well.
In fact, with the link appearing right next to IAB's affiliate codes of conduct, it not only looks like a brazen cyber attack, but a cruel joke on the hackers' part too.
At the time of writing, the link is still live.
News brought to you by ClickThrough – experts in Search Engine Marketing & Internet Marketing.