Dr. Dave Chaffey explains that, while we may live in a mobile world, ignoring 'traditional' devices is a costly mistake made by many digital marketers. The multichannel age is upon us.
In a sense, the commercial importance of 'mobile search' and the popularity of searches on smartphones is 'old news'. It's now more than two years since we passed the 'tipping' point where many transactional consumer sites in sectors such as fashion retail and electronics passed 50% of all visitors on smartphones.
Yet, the trend to increased consumer use of smartphones continues alongside declining use of tablets and desktops. This was brought home to me by the recent publication of the UK Communications Market Report, which presents adoption of different digital devices and social media based on a large sample. This chart shows the overall pattern in rise and fall of use for different devices, here based on what consumers selected as their 'most important' device.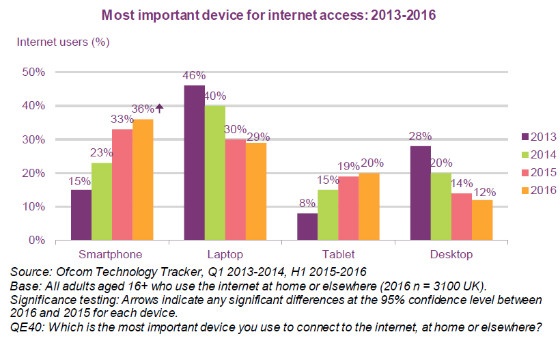 The chart shows that, in the UK, smartphone and tablet use is still on the rise, although the rate of increase between 2015 and 2016 is at a much lower rate than in previous years. Laptops and desktops are on decline, but still important overall. For me, this chart highlights a weakness in the 'mobile first' (read smartphone first) design thinking which Google, amongst others, has advocated. Yes, smartphone is important and growing, and we need to provide effective smartphone experiences, but for nearly two-thirds of consumers (64%) laptop, desktop and tablet are still more important. So, in our enthusiasm to deliver smartphone experiences and use smartphone media for our audience we shouldn't neglect higher resolutions and 'traditional' devices.
To truly understand the importance and impact of mobile devices, and smartphone in particular, we should look not simply at the access to or popularity of individual devices, but consider multichannel behaviour. comScore has some really insightful research on consumer use of different devices . This 2015 data clearly shows that, in developed countries, the vast majority of consumers use multiple devices - comScore call these the 'multi-device' or 'multiplatform majority'. I think this is a great term to counter the simplistic 'mobile first' thinking.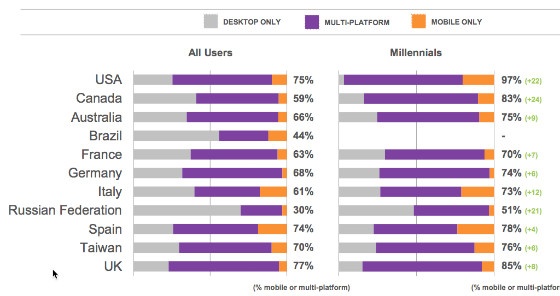 So, the reality is that, in developed countries, most consumers use multiple devices and will often browse on smartphone, yet buy using desktop or tablet, which explains why smartphone conversion rates are much lower than desktop.
Four Implications of Mobile First over Multichannel Majority Marketing
So, where does this conflicting picture of the importance of smartphone and other devices leave the marketer? To me, the implications are:
ONE. We need to take the overall 'mobile marketing hype' with a pinch of salt and instead understand the real picture in each sector and business for the relative volume of smartphone/non-smartphone site visits, leads and sales.
For example, for many B2B sites, at work desktop web usage means that mobile use is at less than a fifth of all visits, so this means that although a responsive website is important, it's even more important not to design a site which isn't effective in delivering business and communications goals on laptop or desktop. Sure, smartphone access is the primary device for fashion retail, but that doesn't mean it is for all sectors.
TWO. Next we need to assess behaviour of consumers on different devices - how does the proportion of browsers against buyers vary between smartphone, laptop, tablet and desktop. Web analytics can help us here since Google Analytics has default segments for smartphone, tablet and other devices. It's also worthwhile looking at how conversion rates vary by the different screen resolutions today.
THREE. Once we review the relative importance of visits to our site from different devices and screen resolution we can optimise for these. This includes both off-site media optimisation and on-site conversion optimisation. Media optimisation means ensuring that our paid, earned and owned investments are prioritised to reach our audience on their preferred devices, which will give the biggest impact for the advertiser. Google has recently introduced many new options for AdWords to support mobile optimisation, which I will review in a future column.
FOUR. Once we understand the importance of individual devices, we need to look at cross-device usage. This means, determining the sequence of device usage on the path to purchase and how sales are attributed to different devices or platforms and the channels used? For example, it may be the case that a purchase happens on desktop in response to an organic brand search, but it was originally referred on a smartphone from a paid search AdWords ad. In this case, with a conventional 'last click' model the impact of the AdWords creative may not be taken into account.
ClickThrough considers this cross-device journey for its AdWords clients, but this is not always the case. AdWords advertisers should also be aware that Google has also added new tools to AdWords to help understand cross-device conversion, which I will cover in my next article.
AdWords recently added multi-device bid modifiers, enabling advertisers to now target their campaigns for PC, mobile and tablet. Read the latest ClickThrough industry news post Tablet Bidding Returns to AdWords.