All marketers know the importance of providing website experiences which support mobile devices given the growth in use of smartphones and tablets.
Many consumer sites now receive more than half of their visits from mobile sites. For example, John Lewis announced that it had passed this 'tipping point' last year. Given this, most sites which have been redesigned over the past couple of years or so have been commissioned to be mobile responsive or mobile adaptive.
However, the mobile experience for many site visitors will start in Google as they search for a brand or product or services. You may have seen that in November last year that Google announced new advice on 'mobile-friendly' sites. At the same time it started labelling sites as 'Mobile-friendly' as shown below.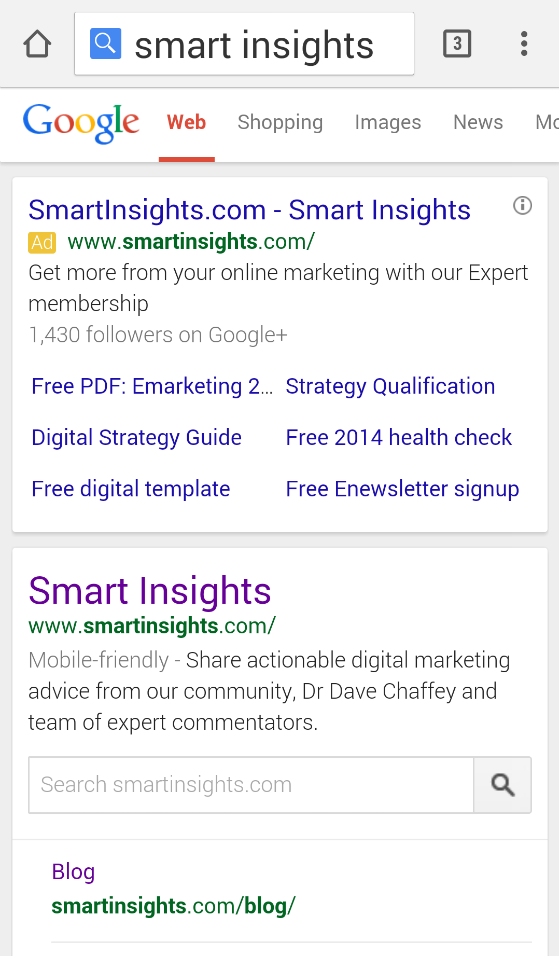 The implications were obvious - if you don't have a mobile-optimised site, you are like to slip down the rankings as fewer smartphone searchers will click on your results in the Search results. It's difficult to quantify, but we do know that Google uses click-through rate (CTR) as a ranking signal, and other markup that make the listing more prominent (such as Schema markup and the now-defunct authorship markup) can increase CTR.
At the same time, Google improved the advice available in Google Webmaster Tools on Mobile Usability listing pages which aren't mobile-friendly based on criteria such as "viewport not configured", "touch elements too close", "small font size" and Flash usage. Have you checked your alerts?
I was reminded of how Google is treating the mobile experience of its users more seriously last week when we received an email alert from Google Webmaster Tools about how mobile friendly Smart Insights is. Surprising, since we have a mobile responsive blog and resource pages - although we knew that a small number of legacy pages were not, since they couldn't be readily made mobile-friendly. This is the message we received on the 6th of Feb:
**Subject: Fix mobile usability issues found on http://www.smartinsights.com/**
*To: Webmaster of http://www.smartinsights.com/*

*Google systems have tested XX pages from your site and found that 22% of them have critical mobile usability errors. The errors on these XX pages severely affect how mobile users are able to experience your website. These pages will not be seen as mobile-friendly by Google Search, and will therefore be displayed and ranked appropriately for smartphone users*.
The chatter in the SEO forums shows that many webmasters have received similar messages too, and some suggested this could be related to a fall in rankings, although the consensus was that this isn't the case and we certainly haven't seen this.
I was surprised by this mail in two ways. First I was surprised by the high proportion of pages flagged with "critical mobile usability" errors. When we looked into it, it was something we had overlooked - we use images in all blog articles and for the larger charts and models we link to a separate 'attachment page' in Wordpress to make them easier to read. Anyway we know now and we were able to fix this immediately - we updated the attachment image to be mobile responsive. Thanks Google!
What surprised me most though was the tone of the message - the language wasn't a friendly advisory, but more of a directive suggesting how seriously Google is taking mobile experience. For example "Fix mobile usability issues" is an instruction, and "critical mobile usability errors" sounds like a warning.
So if you didn't know about this already, it's worth reviewing your mobile SEO more seriously in 2015 - ask for a review of the Google Webmaster Tools mobile usability messages by your in-house SEO specialist or agency. It's also useful for someone responsible in the business to be signed up to the alert - sometimes I have seen situations where SEO is outsourced in large companies, with no one in-company being "in the loop".