ClickThrough Marketing's director of paid search, Zoe O'Neil, offers her advice and insight into what Google's latest changes to ad positions mean for online advertisers.
It is possibly the most talked about subject in digital marketing right now. Google has dropped its advert sidebar on desktop search and added a fourth top-level ad position in SERPs.
Many of our clients are now asking what this means for their paid search accounts, as well as querying why Google has made such a big change, and why they implemented it so quickly.
What Action Should I Take?
Undoubtedly, competition is going to hot up as companies vie for the top four positions. CPCs are therefore likely to increase.
This is where a sound account structure and effective match type strategy is important to ensure you are paying the lowest CPCs with the highest level of relevancy and targeting. Making sure your account is fully optimised is essential.
For e-commerce, increased emphasis will be placed on Google Shopping, so focus on your feed management and data quality.
For B2B, we will see even more importance on the top four positions on text ads. Make sure you have Google Search Network turned on in your campaigns, as the CPCs will be cheaper on desktop.
Also, consider your remarketing strategies. There will likely be more competition and higher bids to bring visitors back through RLSA ads, so make sure to layer on top this increase to CPCs.
Look at other channels. Are you on Bing? Could you push more budget to Bing to benefit from its lower CPCs? Are you using paid social? Now could be a great time to diversify your digital marketing spread.
Should I Shift Budget to Google Shopping?
Product Listing Ads will still warrant prime SERP real estate. These will continue to show above or to the right of search results.
For e-commerce companies, the change could result in more traffic and conversions being driven through Google Shopping. As brands seek to spend circa 60% of budgets through Shopping, this shift seems natural. This could also be related to a recent announcement by Google that Global Trade Item Numbers (GTINs) will become a required attribute for online vendors by mid-2016. Is this the next step to allow more real estate for Shopping results on page 1? Will we see the whole of the right hand side of desktop given over to PLAs through Google Shopping?
Is Mobile Search Also Changing?
Possibly for the first time ever, desktop is actually changing to fall in line with mobile search. We've seen in recent years that mobile has overtaken desktop in searches, suggesting that the change may be a response to the growing popularity of mobile search. Google's decision to drop the ads sidebar from desktop means that SERPs will have virtually the same look and feel across all devices, whether PC, mobile or tablet.
Will this have an effect on CPCs? Possibly. If your desktop bid has to increase for desktop 1-4 then this could potentially impact your mobile bid, too.
How Will Organic Search Be Affected?
There is a large consensus from industry experts that having four ads will push down organic search results and the likelihood of this coming true is very high – although what we don't know yet is how often four paid ads will be returned in the SERPs. However, B2B and B2C businesses could potentially see click-through rate improve. Why? Well, with less visual distractions from the right hand side, users may scroll down further, which could drive more focus on organic search results.
Companies wanting to maximise their organic potential should employ an integrated SEO and PPC strategy. An integrated approach could help you increase your SERP real estate and click-through rate. If you are in ad position 1-4 and in organic position 1-4, needless to say your chances of attracting new business will be increased.
Why Now, Google?
For many, the change seems like a swift one, but in reality Google has been testing this for years.
From a Google perspective, dropping the sidebar actually presents an opportunity to make more money. We predict CPCs will rise on desktop as the fight for the top four positions becomes even more important.
Larry Kim, writing on Search Engine Watch, presented a refreshing view that highlights the benefits to Google and to advertisers alike. According to Kim, sidebar ads and bottom ads account for just 14.6% of total click volume. This means that 85.4% of clicks are attracted to the top ad positions. Now, with a fourth ad position up for grabs, that means more clicks for customers and a higher CPC for Google. It's a very simple 'win win'.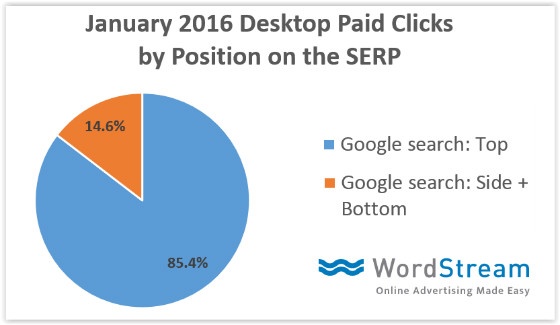 As digital marketers, we have to ride this shift, but the most important focus is nurturing and converting your traffic. Focus on ensuring that your landing page, products and services have the maximum opportunity to convert this potentially higher costing traffic.
At ClickThrough, we will be monitoring the shift in CTRs, traffic, CPCs and conversions for our clients over the forthcoming weeks and adjusting our strategies accordingly.
More on this story:
The AdWords Sidebar Update – An example of how to review the impact of changes in digital marketing – By Dr. Dave Chaffey.
Google Changes Ads Display Positions in SERPs – By Lisa Coghlan.