First reported almost three weeks ago on 6 May 2016, Google has finally announced that the extended meta titles and descriptions many users have been encountering are still in test mode, confirming that they are not yet an official change.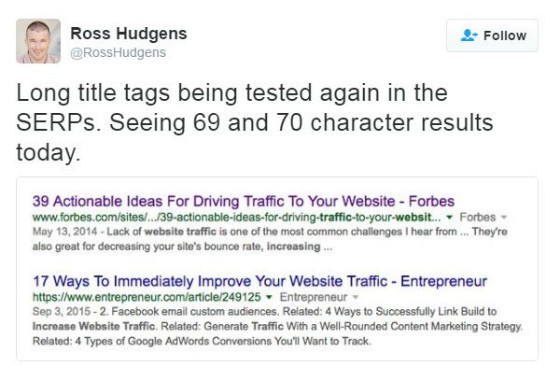 Titles as long as 69 and 70 characters, an increase of between 10-15 characters from the previous limits, have been seen by many users. Descriptions have also seen a significant increase from 156 characters to more than 100 characters extra at 278 characters.
If rolled out indefinitely, the change would allow the inclusion of a higher frequency of relevant keywords, as well as being able to accommodate for longer tail keywords. The longer description length would also benefit brands looking to maximise on the most detailed description of their page possible. Google's wider search results tests appears to coincide with this, compensating for the extra length and allowing the same amount of results per page.
Since the extended titles and descriptions have been confirmed as still in testing, SEOs have advised not acting upon the longer title allowance until a change has been officially confirmed. While in testing, not all SERP results adhere to the changes, and if the test, like many run by Google, does end up being retracted, changes in length could then result in truncation.
We will keep you updated on this story once further information has been announced as to the likelihood of the changes becoming permanent.