As we move into a new year for digital marketing, Dr Dave Chaffey explores some of the SEO trends we can expect to see.
It's that time of year where we look forward to how we're going to learn and adopt new techniques to change our marketing practices. Incidentally, from a blog marketing point-of-view, it's useful to cover trends in the topics you cover on your blog, whether your marketing to consumer or business audiences.
It's certainly a blogging technique that has worked well for me over the years given the interest in digital marketing trends throughout the year. My marketing trends post for this year looks at broader digital marketing trends which you may be interested in, but in this post for ClickThrough Marketing I'm going to look specifically at SEO trends since that's such a big concern for many clients.
I have been following trends in SEO since the mid 1990s and in that time there have been huge trends to respond to with algorithm updates and changes to new technology platforms such as secure http and mobile. Yet now, I'm not so sure, so I have to ask...
Are there really any new SEO trends?
In a word, I think "no"; brand new trends are limited, rather people are describing fairly well-established success factors that are all about how you test, learn and refine and adapt to Google's changes.
Looking at Search Engine Journal's SEO trends for 2019 compiled from no less than 47 SEO experts. They are grouped under these headings: Understand user intent (that's keyword research), structured data markup, exceptional content, increase expertise, authority and trustworthiness (E-A-T), speed, on-page optimisation, featured snippets and other SERPs features, voice search and machine learning.
Mobile-specific web serving technologies do get a brief mention with Progressive Web Apps (PWAs) rightly getting a mention although AMP aren't (See this post for my explanation of AMP, which I believe is a major trend).
I think you'll agree that these are more well-known success factors rather than trends and are a useful summary for that reason, but they aren't new, more ongoing trends. True, voice search and machine learning are arguably more important today, so let's take a look at those.
Voice Search
We have all seen the figures for smartspeaker growth and many of us own them, but are they a trend that's going to change SEO practice drastically in 2019. Again, it's a "no". Actually, I like that there is more realism in the SEJ article about this as shown by this parallel:
Last decade, "the year of mobile" became a kind of running joke. Every year, the experts predicted that this, finally, would be the year of mobile. Year after year. Until hype finally matched reality around 2015.
Well, is this year the year of voice search? Once again, not quite;
I agree, despite some in SEO still pedalling the bogus 50% of searches will be voice activated by 2020 so it will transform SEO statistic. Yet we're way off this point now and I don't see us reaching it, certainly via smart speakers, since queuing up that music track or setting a timer doesn't count as a voice search. Others are calling this out too with this analysis suggesting that just 12% of searches are voice activated now. That sounds nearer the mark to me.
There is an important, broader trend behind this as SEO consultant Aleyda Solis notes when she says that voice search is just a piece of a bigger shift, from specific "results" to "answers" as part of a longer "conversational search journey."
But most SEOs have been considering this as part of their SEO at least since 2013 when Google announced that Hummingbird would place greater emphasis on natural language queries, considering context and meaning over individual keywords. It's certainly a key question to review with your SEO specialists.
Machine Learning
For me, applying machine learning is a really significant trend to consider across digital marketing and is particularly important in terms of managing investment in ad budgets programmatically such as via Google Ads and Programmatic. It also potentially has applications to smarter web and email marketing and personalisation as part of marketing automation. As a tool for SEO, I think its applications are more limited for now despite the potential for using Natural Language Generation (NLG) to automatically generate copy.
Automated Insights are one of the technologies to watch here since they have offered services to autogenerate articles, but they appear to have flipped to focus on using language to automatically interpret data using natural language and to create human readable summaries of what the data is showing.
Of course, nothing new here since Google Analytics has had its own Automated Insights since 2016 you may be familiar with. If not, it's worth a look, but my view is that an experienced digital marketing or SEO analyst can reveal truly useful insights which can be used to improve SEO of specific page or keyword types, not least because Automated Insights isn't hooked up to Google Search Console keyword reporting.
So if these trends above, interesting and useful as they are, aren't hot, then what is? What should you be considering? These are the questions to ask to understand what really matters beyond the top-level trends.
What are the recent algorithm changes?
Hanging out in the webmaster forums on Google Webmaster Product forums, Webmaster World and similar have traditionally been the best option here, to learn collaboratively from others. Unfortunately, most questions and posts aren't from typical commercial sites, rather people learning or pushing the boundaries and so getting hit by penalties.
For those who don't have time for the forums, the algorithm history summary on Moz is still the best summary and has been updated more often in the past year featuring several major, but not-specific algorithm updates which agencies have watched carefully for the impact on their clients.
One of the biggest changes in 2018, which you likely know of, is the roll out of the mobile page speed update in July, making page speed a ranking factor for mobile results. Google claimed that this only affected the slowest mobile sites and there was no evidence of major mobile rankings shifts. Google has a history of increasing the weighting of ranking factors like this, so it's worth keeping an eye on alerts about your site in 2019 and checking out Google's new benchmarking tools now powered by Lighthouse.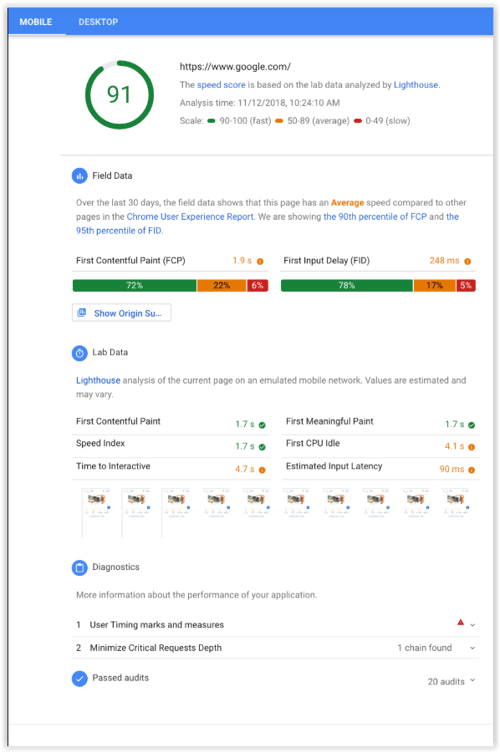 How are the SERPs listings looking?
Over the past few years, one of the biggest trends has been the changes to the search results pages (SERPs) as nicely shown by the Mozcast Google features graph. This shows the percentage of Google SERPs which include specific features from a selection of 10,000 important commercial keywords.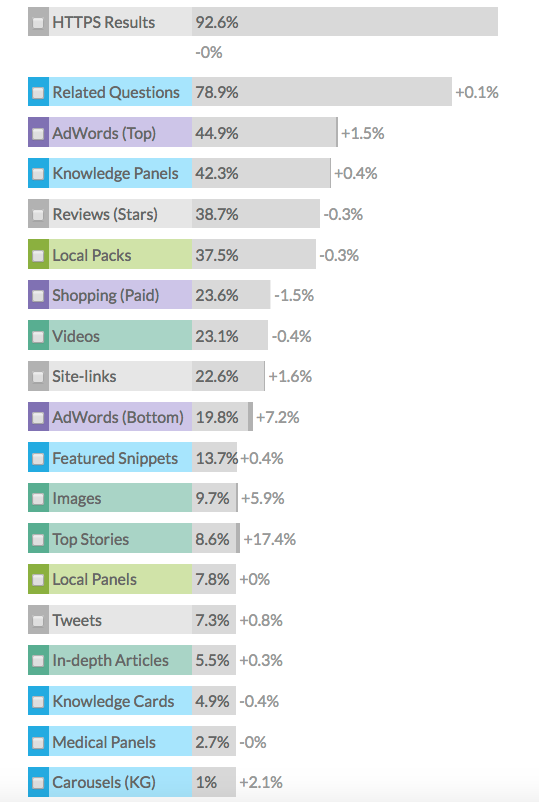 You can see the importance of Related questions and Featured snippets which have increased massively in recent years and warrant attention using these techniques to try to get featured if they are important in your sector.
It's also interesting to see that most sites have now implemented secure http, so this trend is nearing the end of its life.
So what does Google say?
SEOs are used to reading between the lines of Google announcements to elicit SEO success factors and more recently, since Matt Cutts who was the public face of Google there has been less transparency, but there are still some good information sources to monitor, let's see what these say.
Google's Blogs
The Google Webmaster Tools blog is a must-read blog for any SEO. There is no sign of major new trends recently, but we see an ongoing trend on mobile and SEO performance with new tools available for businesses to review this. Google Search Console has also improved features for the year ahead due to new features in 2018.
Google company blog, now known as The Keyword is much more active than previously across a wide number of categories. Much of the content, even in the Search category isn't directly relevant for SEO, but it's worth being in your feed, for some major announcements, such as this from Ben Gomes, VP of Search which is a must read: Improving Search for the next 20 years.
This has some interesting insights that summarise the moving target that is SEO:
Google accepts billions of queries every day, and 15 percent of queries are ones we've never seen before.
Google indexes hundreds of billions of pages in its index. It offers search in more than 150 languages and over 190 countries.
In 2017, Google ran more than 200,000 experiments that resulted in 2,400+ changes to search!
It links to the latest version of the manual Rater Guidelines which you may want to check out if you haven't reviewed recently since Gomes explains that it defines which define Google's goals in search, so although the latest version weighs in at 164 pages, it summarises the quality of content that Google aims to serve to its searchers.
The trends that Google sees as important are indicated by these three fundamental shifts in how Google thinks about Search:
The shift from answers to journeys</strong>: To help you resume tasks where you left off and learn new interests and hobbies, we're bringing new features to Search that help you with ongoing information needs.

The shift from queries to providing a queryless way to get to information</strong>: We can surface relevant information related to your interests, even when you don't have a specific query in mind.

The shift from text to a more visual way of finding information</strong>: We're bringing more visual content to Search and completely redesigning Google Images to help you find information more easily.
Underpinning each of these are advancements in AI, improving our ability to understand language in ways that weren't possible when Google first started.
Google Webmasters YouTube
Back to more technical insights, you should check that your technical SEOs tap into the Google Webmasters YouTube channel. OnCrawl have a useful summary of the top 35 Technical SEO pronouncements by Google's John Mueller in 2018.
For more details in technical SEO including AMP and PWA, see the Google I/O talks.
Google's New Public Search Liaison
If you missed this over the summer, this is good news if you're looking for more transparency from Google on all things Search. Danny Sullivan, well-known as a search engine marketing guru since the 1990s was appointed by Google to explain their approach to many issues beyond SEO including privacy. For example, this recent thread looks at how personalisation works. Probably no surprises here, but a sign that it's worthwhile following @SearchLiaison.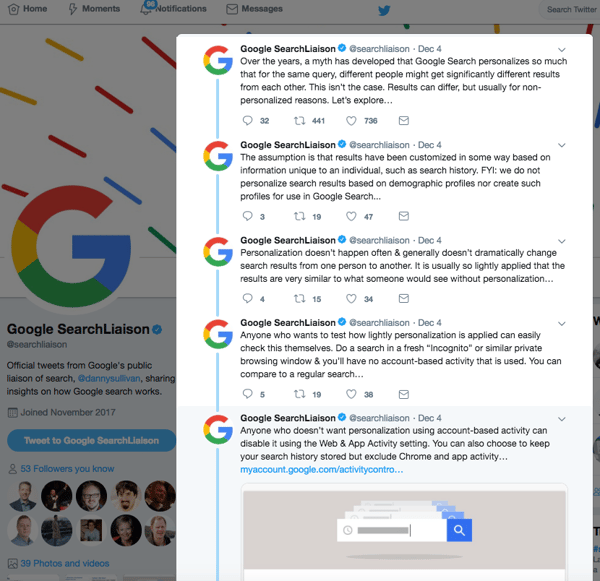 Your Analysis Matters Most
So that's my round-up of the organic search trends. As a final point, what matters at least as much as following the industry trends, is to understand your own trends in how successful you are with SEO and content marketing. So in my next article, I'll cover a practical approach to auditing your content to see what's working well and what could be working better.
if you'd like find out more about our SEO services and how they could help your business, get in touch with us and speak with our experts today.