Rachel Poole walks us through the latest in paid search news and advice including, Bing's upgraded URLs, a brand new look for the Google Merchant Center, and new Bing Ads Editor features.
Bing Ads Upgrades URLs
Bing has announced upgraded URLs – an easier method for advertisers to track URLs when compared with the current destination URLs.
Destination URLs are a combination of the landing page URL as well as any tracking parameters that have been implemented.
This update means that your landing page URLs will be made separate to that of your tracking parameters, making it much easier for advertisers to update any tracking codes needed without having to disrupt ongoing campaigns.
Google Requires More Reviews For Seller Ratings
Although it's not yet been made official, Google has been telling some of its customers that a minimum amount of reviews will be needed for seller ratings to be visible in AdWords ads.
Search Engine Land claims that companies may need to accumulate a minimum of 150 reviews from the past year – a significant increase on the prior minimum of 30 reviews.
However, this change will not affect the obligatory rating requirement of at least 3.5 stars. Reviews.co.uk were first to note the change, and claimed that it will make it difficult for smaller e-retailers to gain enough reviews in order to be eligible for seller rating extensions in their ads.
Google Introduces New Look For Merchant Center
The Google Merchant Center interface has had an update, with the biggest changes being seen as part of the new Feed Rules feature.
Here, users can make changes to the feed without directly editing it. The new interface also allows users to change specific values, create new values, and combine values, making it easier to add size attributes to product titles. The update also allows you to pull data from one attribute and apply it to another in the feed.
The new Shopping ads section features Assortment reports and Configurations for adult content and currency conversions, allowing retailers to present users with products in their own currency.
You can now also add other programs by clicking the three dot button in the top right of the interface. This is where users can access other Merchant Center programs such as Dynamic remarketing reporting, product ratings in Shopping campaigns, as well as promotions.
Bing Ads Editor Version 11.2 Rolls Out
Bing Ads Editor version 11.2 has now been released, with several upgrades to support the efficiency of advertising campaigns.
Helping advertisers to manage campaigns faster, the new version of Bing Ads Editor features the following:
Callout Extension – Increased support for callout extensions to help advertisers manage them in bulk.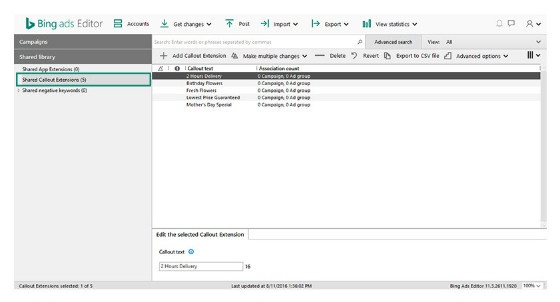 Custom Ads For Native – Allows advertisers to provide ad copy for Bing Native ads that is different to that of their search ad copy.
Automated Duplication Removal – Eliminates the need to manually de-duplicate items after importing.
Each updated release of Bing Ads Editor is in response to direct feedback from users, so any issues experienced by advertisers are taken on board when directed to the Bing Ads Answers forum or on social media.
Expanded Text Ads Reach Bing
In line with Google's move to expand text ads, Bing has now made expanded text ads available to Bing Ads users.

However, this step is still only in its first phase as users have to fill out a survey to enable the new feature. After this, the user will be placed in a queue and await email confirmation before they can begin to import and manage expanded text ads.
More Paid Search News and Advice
Read our previous PPC roundup: New AdWords Interface Rolls Out
Need advice on implementing expanded text ads? Get in touch with our team of PPC management experts for support today.