Rachel Poole and Sarah Kemp share the latest in paid search news and advice including AdWords' new Drafts and Experiments features, the death of right hand side ads, and changes to Facebook ads.
Google AdWords Rolls Out Campaign Drafts and Experiments
Google has rolled out a new feature in AdWords called campaign drafts and experiments, allowing marketers to test their campaigns before pushing them live, measuring results and then applying the changes that will clearly work for your business.
The Drafts feature allows users to stage any changes made to campaigns, giving them a chance to review them before implementing them. But how will you know if this will actually positively impact on your business?
That's where the Experiments feature comes in. Experiments lets users test changes in a more controlled environment, making it easier to decide on bid changes and test strategies without affecting current campaigns. Experiments can also be made from drafts in order to test it against current strategies. Users also have the ability to set how much traffic and budget to split between an experiment and the original campaign, and the length of time you would like the experiment to run.
Once the experiment has run, results can then be measured with a reporting scorecard:

This will give an accurate insight as to whether you should be changing your current campaign, sticking to your original campaign, or launching a secondary campaign from your experiment.
Drafts and experiments are currently available for Search and Search Network with Display Select campaigns.
Google Kills Right Hand Side Ads
Google has removed all PPC ads from the right hand side of the search engine results page with immediate effect on a global scale. This now leaves four PPC ads at the top of the page but more organic results below the fold.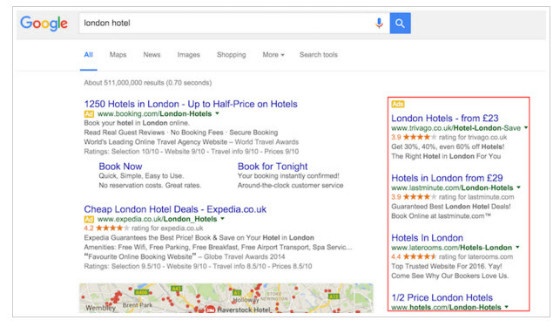 But what does this mean for your PPC ad campaigns and your organic visibility?
Take a closer look at how the removal of ads from the right in SERPS could affect your businesses results with some thoughts and advice from ClickThrough's PPC director, Zoe O'Neil.
Facebook Ads Are Changing
A new ad format is coming to Facebook. This will mean that clicking on an ad may not necessarily send users over to the advertiser's website, but will expand the ad into a full-screen multimedia ad format called 'Canvas'.
Facebook announced the launch of Canvas on 25 February, 2015, introducing it as a "full-screen ad experience built for bringing brands and products to life on mobile".
The new ad experience is intended to provide a more engaging experience, with a faster load time, and the opportunity for advertisers to include text, images, and video. By giving advertisers more room to be creative on mobile, they're being given a better chance of interacting with their target audience on a more engaging level.
This change forms parts of Facebook's on-going plans to keep more browsing activity within the app.
More Paid Search News and Advice
Read our previous PPC news update: AdWords App Supports Universal App Campaigns
Need support getting to grips with AdWords? Download your FREE Best-Practice Guide to AdWords Audits today.