Rachel Poole and Sarah Kemp share the latest in paid search news and advice, including the rise of CPCs, Instagram's new advertising strategy, and a refreshed API for Google AdWords.
CPCs for Google's PPC Ads Is Rising
A marketing agency has stated that it has seen higher CPCs as a result of the removal of Right Side ads.
After Google removed the right hand side ads from its results page last month, Performics told Search Marketing Daily that it saw higher CPCs within the first few days of the change, implemented on 20 February 2016. This suggests that the competition for ad position has now intensified, due to the limited number of ad positions.
Instagram Mirrors Facebook's Advertising Strategy
Instagram is in the midst of creating an advertising system that is very similar to Facebook.
There is a list of features that Instagram is working on, which include the following:
Specific profiles for businesses – another take on Facebook's brand pages
More data on how your brand account performs – for all posts, even if they aren't promoted posts
The ability to buy Instagram ads from a mobile device
Instagram is changing its advertising strategy in order to make it as simple as possible for brands to advertise, and with the ease of advertising directly from your mobile device, it has become even simpler for brands to extend their reach on the social platform.
Google Announces New Version Of AdWords API
Google has recently launched a new version of the AdWords API, which allows users to download Quality Score information at scale.
Having a good Quality Score is important for maximising your performance in AdWords. However, Google has never been able to easily allow advertisers to view the Quality Score at a more granular level. With the changes made to the API, it will now allow advertisers to download each Quality Score factor as well as its current status (average or above/below average) for each keyword. This will now give a more detailed view of how Google determines Quality Score, and a clearer view of how to improve it.
Searchengineland released the below table, giving a clear view of which factors affect Quality Score, helping advertisers understand which areas of landing pages may need improvement.
Google Announces Automated Upload Scheduling
Google+ have announced that there is a new feature that will allow you to automatically set scheduled uploads for your Ads. AdWords can now automatically update your data daily, weekly or on the first day of the month. The syncing process can happen without the need to sign into your account and update the information manually.
All you have to do is schedule your ads to be uploaded within the Business Data section of your Shared Library. From here you can easily schedule the day and frequency of your ads using an upload from a number of file types. This is can give you the added reassurance that ads will only go out as and when required.
Google Tests Scrollable PLA Carousel & Numbered Rankings
Google is testing a scrollable carousel of PLAs in order to bring the desktop experience in line with mobile. It's also testing a "ranked" view for top rated products.
The new scrollable PLAs carousel features an arrow to the left of the carousel, allowing users to scroll through the ads.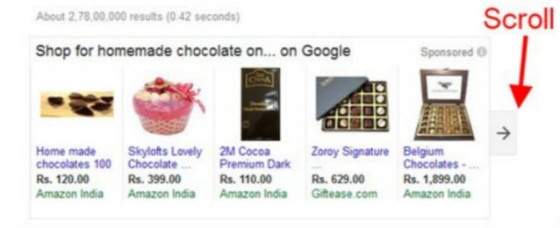 The test that Google is currently conducting is ranking PLAs for 'top' and 'best' products. These are most likely to be numbered in the search results. On mobile, the ranked products feature a blue flag with their rated position. Below is the tested view that's been spotted on desktop: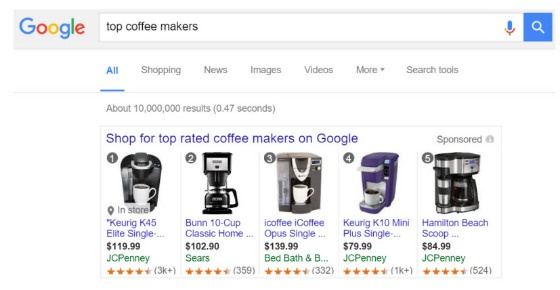 More Paid Search News and Advice
Read our previous PPC news update: AdWords Rolls Out Drafts and Experiments or get further advice from our team of PPC agency experts.
Need support with your AdWords account? Download a FREE Best-Practice Guide to AdWords Audits.