Apply Custom Formulas to Your Custom Columns in AdWords
Rachel Poole and Sarah Kemp bring us the latest paid search news, including AdWords' new feature in custom columns, why Twitter has stopped showing ads to some of its users, and the launch of the iOS AdWords app.
Google has announced the latest development in its Custom Columns section of AdWords: the ability to add your own custom formulas to your reporting metrics.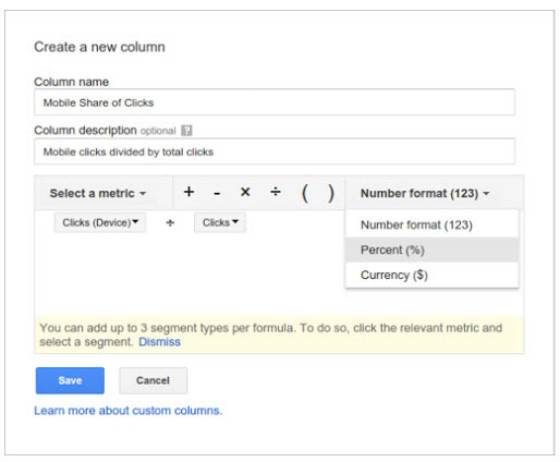 You can now create a column in the interface of your AdWords account in which you can input your own custom formulas. This will allow you to apply formulas for the metrics that you set up in custom columns.
You can then create your own custom reporting and download your custom columns data to put it to use in a way that's easier for you and your brand.
Why Has Twitter Stopped Showing Ads to Some of its Most Active Users?
Twitter has dramatically reduced the number of ads it displays to a select group of its most prominent users, in an attempt to get some of its VIP users to stay more engaged with the service.
Prominent users with a wide reach on Twitter have been selected to be in the low-ads group, in order to keep them engaged on the platform.
However, it could be argued that this is counter-intuitive for a social platform that thrives on gaining new users, not by pandering to the needs of those who are already deeply involved with it. That said, Twitter allegedly generated $2.2 billion in revenue in 2015.
Adwords for iOS Makes Stats More Accessible
Google has finally released an AdWords app for iPhone and iPad, although the mobile version is lacking many features found in the desktop version.
You can use the app to update bids and budgets and opt-in to receive real-time alerts and notifications for your existing campaigns. Although if you want to use it to create ads, you will need a separate AdWords Express app, which creates complications when working with AdWords accounts.
Although there are some teething problems with the full functionality of AdWords for iOS, this advance will make your marketing stats much more accessible, and make your current campaign analysis a breeze wherever you may be.
More Paid Search News and Advice
Read our previous PPC news update: Improve Conversion With Location Bid Adjustments
Need advice on restructuring your AdWords account?
Download your FREE Best-Practice Guide to AdWords Audits and use our 22-step guide to your advantage.