Rachel Poole details the latest paid search news and advice including an update on the effects of the SERPs' changes, the switch from Bing Ads Campaign Analytics to UET, and new shopping product insights.
First Page Minimum Bids Still On The Rise After SERPs Changes
Since the removal of ads from the right of SERPs, first-page minimum bids have continued to increase according to Searchengineland.
It has been a few months since we saw Google remove its right hand side ads in replacement of four text ads above the organic search results. The initial aftermath saw minimal impact, with a slight shift in CPCs and lower amounts of traffic reaching the paid ads at the bottom of the SERPs.
Now the dust has begun to settle, Searchengineland has reported on an increase in first-page minimum bids, taking data since the change and comparing it to the previous period in 2015.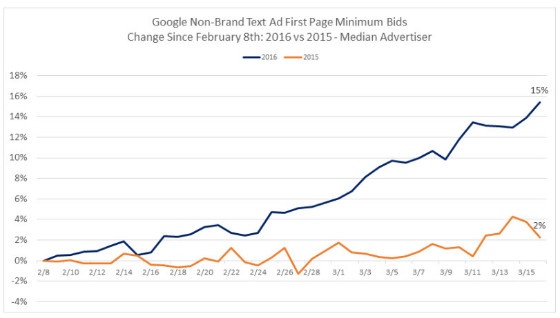 According to the research, increases in minimum bids for first-page ads directly follows the SERPs changes made in February. It is possible, however, that some advertisers are increasing their bids in an attempt to get their paid ads back into play, where they fell out of the first-page results after the changes were made.
Where first-page minimums may have increased, top-of-page bids have decreased. This comes as no surprise as there are now more ad slots available at the top of the results pages. Having said that, top-of-page minimum bids are now slowly increasing, continuing to climb since the beginning of March.
The report also concluded that CPCs are seeing a slight increase, and bottom-of-page ads are, in fact, seeing more traffic than initially expected.
Making The Switch From Bing Ads Campaign Analytics To UET
Bing has announced that it's now time to make the switch from Bing Ads Campaign Analytics to Universal Event Tracking (UET), ahead of its closure in October.
If you're still using Campaign Analytics to track conversions you may want to migrate over to UET. Bing is in the process of migrating all active Campaign Analytics goals to UET. The migration will start in May 2016 and be completed in October 2016.
Most of the transition process will be done by Bing. But marketers will need to replace Campaign Analytics tags on site with the brand new UET tag, and this should be done by October 2016.
Throughout the migration process Bing will not remove any data or replace any tags for you. Bing will instead map the Campaign Analytics tag to the new UET tag to ensure that none of your historic data is lost.
Google AdWords Announces Shopping Product Insights
Google has released a new tab to show more insights into your shopping campaigns. According to Google, 12% of top-clicked products for 2016 are currently not being advertised because the product is out of stock or disapproved.

In the products tab you can now easily spot the status of your best performing products. This tool will help to identify the products that have stopped attracting traffic and conversions because they have been disapproved, excluded or are out of stock. This will inform bid adjustments for your top sellers and quickly inform you of any issues, or out of stock products that need to be removed from Shopping.
Facebook Versus YouTube: The Ultimate Video Content Battle
According to Cisco Forecast, "video will represent 69% of customer based internet traffic by 2017". As Facebook and YouTube battle to be at the top for video marketing, Moz and Wolfgang Digital take a look at which social platform delivers the best value when promoting video content.
The Difference:
Facebook video content in April 2015 received 4 billion daily views. Within six months, this figure doubled, reaching 8 billion daily views.
In February 2016, Google CEO, Sundar Pichai, stated that YouTube's audience views hundreds of millions of hours each day.
Facebook's metric of 'a view' is counted only after 3 seconds of play.
YouTube counts its 'view' after 30 seconds of the video being played.
YouTube has considered its performance according to number of hours watched, and not the amount of videos viewed.
Facebook caught up with this "hours watched" metric in 2016.
So which platform will give you the best value when it comes to video marketing? With the video experiment conducted, the same video with the same budgets used, was submitted to YouTube Ads and Facebook Video Ads. Demographic targeting was also the same across the platforms. And the results were as follows: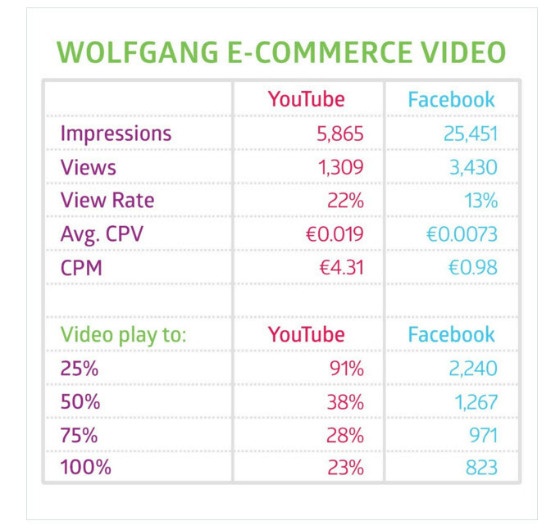 Key Takeaways
Facebook beats YouTube for impressions
YouTube has a higher engagement on quality time watched for its videos
Completed views are significantly higher within YouTube
Cost per Quality watched minute is cheaper on YouTube
In conclusion, set your KPIs before starting your video campaign. If you want to put your video in front of as many eyeballs as possible, you may opt for using Facebook. If you want to pay for quality watched time, YouTube is a better option.
More Paid Search News and Advice
Read our previous PPC news roundup: Google To Overhaul AdWords For Multi-Screen World
Find out how our PPC Management Services could help your business. Find out more about our AdWords and Bing account management offering.