Rachel Poole and Sarah Kemp walk us through the latest in paid search news and advice, including the complete roll out of expanded text ads, YouTube expanding TrueView Ads, and the end of converted clicks.
AdWords Expanded Text Ads Are Live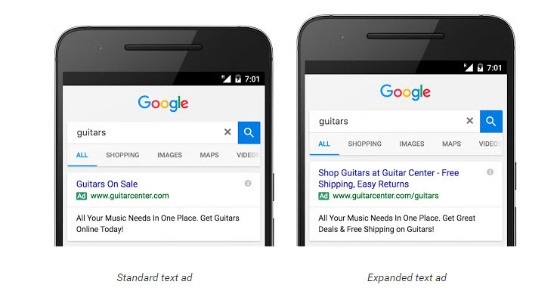 The expanded text ad roll out has begun worldwide and, as of 26 October 2016, standard text ads will no longer be accepted by Google.
Expanded text ads will now consist of two headlines, each 30 characters in length, and one description line that is 80 characters in length. This gives advertisers more ad space to use, and more copy to get across their brand's message.
Google made this change following the removal of the right-hand side ads in search results in order to make a more consistent experience for users across all devices. With the surge in mobile search, the switch to ETAs will make it much easier for users to gain a better picture of what they're about to click through to within search results.
Advertisers must now make the relevant changes to their AdWords account ahead of the complete changeover from standard text ads to expanded text ads.
Google Gets Rid of 'Converted Clicks'
Google announced on 25 July 2016 that support for Converted Clicks will end after September 2016. This feature will be replaced with 'Conversions', as Google has long been advising advertisers to use the advanced Conversions metric. This measurement holds data on multiple attribution models, as well as store visit conversions and cross-device conversions.
All advertisers affected will receive an email in which a migration tool for making the switch will be provided. It has been advised that all advertisers using Target CPA or Enhanced CPC within 'Converted Clicks' make the switch to 'Conversions' by 21 September 2016.
YouTube Expands TrueView Ads
Google has stated that they are officially renaming YouTube ads "TrueView in-display" to "TrueView Discovery Ads".
This change also brings along another important update for YouTube, in which it will give advertisers full access to inventory across the YouTube app. This means that, for the first time, TrueView ads will appear in YouTube's mobile search results.
Google has also revealed that they are tweaking the system so that more relevant ads appear in the search results. The search engine has stated this should improve click-through rates by up to 11%.
TrueView discovery ads are such a powerful format because they deliver high engagement when viewers click on your video, that's a strong signal that they're interested in your brand. It's why on average, users view one additional video from your brand within 24 hours of watching your TrueView discovery ad.

Nicky Rettke, group product manager at YouTube
This new update is likely to roll out over the next few weeks; however a firm date has not yet been announced.
More Paid Search News and Advice
Read our previous PPC News Roundup: Bing Ads Keyword Planner Sees New Release
Do you require support with your AdWords account? Or a fresh paid search strategy for your brand? Contact our team of paid search management experts for further information.