Rachel Poole and Sarah Kemp bring us the latest paid search news, including video campaign metrics added to AdWords Android app, new features to Google Shopping and AdWords adds store visit metrics.
Mobile Ad Spend Soars for Black Friday
Data in from Kenshoo has revealed that this year's American Thanksgiving holiday, which took place on 24 November 2015, and the following Black Friday and Cyber Monday online sales bonanza, saw a distinct switch to mobile in terms of ad spend.
Kenshoo reported that search spend rose slightly, up 3.7%, with search budgets being directed towards Shopping campaigns. Product ad spend was up 35%, while mobile product ad spend was up 85% year on year.
Meanwhile, the Black Friday phenomenon continues to take hold in the UK, where Kenshoo reported search spend was up 13% from 2014, while search sales rose by 25% year on year.
AdWords Adds Video Campaign Metrics to Android App
This week has seen Google released a few new updates for the AdWords app for Android. The most recent changes include video ad campaigns that reflect the AdWords interface. This allows advertisers to now see video campaign metrics including impressions and view rate.
The video campaign metrics update allows advertisers to monitor video campaign performances and also make bid and budget adjustments when it's necessary.
A second update speeds up the setup process of adding an existing account to the app, by taking users straight to the Google sign-in page.
Google has been making gradual changes to the AdWords app for Android since its launch in March 2015. In August 2015, performance data and billing information was added to the app.
New Features Enhance Google Shopping Facility
Google has recently introduced a number of new features to enhance the Google Shopping facility for advertisers.
Search Engine Land recaps on 11 of the new capabilities of Google Shopping to inform advertisers on how to get the most out of their shopping campaigns. The new features include a shopping insights tool, assortment report, automated product group creation and flexible bidding strategies for shopping ads.
AdWords Unveils New Store Visit Metrics
Google AdWords introduced a number of new store visit metrics at the end of November. The new features enable advertisers to measure offline ROI against online data.
According to Google, some advertisers are finding as much as four times more conversions overall and 10 times more conversions on mobiles from incorporating the data into ad performance stats.
Search Engine Watch provided an example from the Google map listing for Macy's: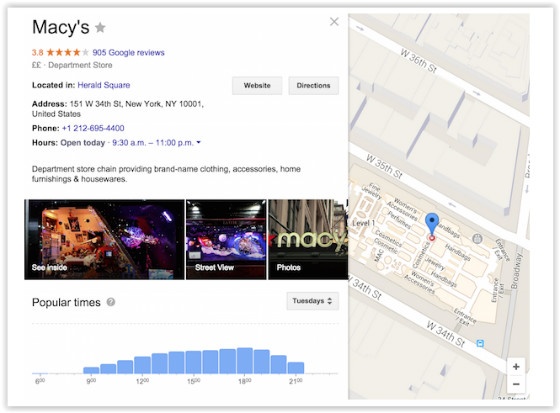 The new metrics will allow advertisers to be able to see more insights into store visits at a keyword or Ad Group level. The metrics will also allow advertisers to be able to view visits by day, week or month.
New Immersive Ad Formats for Mobile Advertisers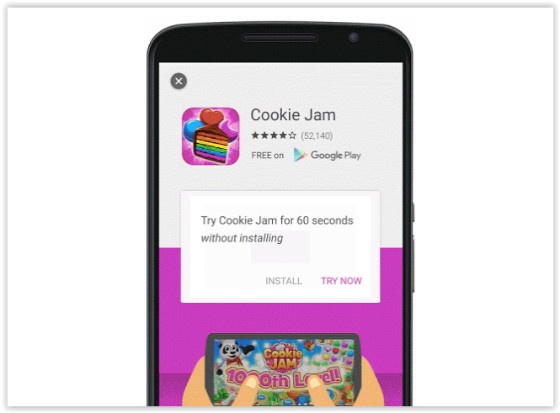 Google has released two new immersive ad formats so mobile advertisers can engage their audiences with interactive ads.
First up is Trial Run Ads, which let users play a game for up to 60 seconds by streaming content from the app before the download starts. This pre-qualifies the user, as it increases the likelihood that the person installing the game will go on to play it. According to Google, the Trial Run Ads are ultra-immersive and produce more relevant ad clicks.
Secondly, Google is beta testing HTML5 interactive interstitial ads. These offer a customised user experience, which Google says can be tailored to each advertiser's app. Both interactive ad formats are still in beta at the moment and available to a limited set of advertisers.
More Paid Search News and Advice
Read our previous PPC news update: New AdWords Features for Black Friday and Christmas
Want to learn how to revitalise your AdWords account and unlock hidden improvements? Download your FREE Best-Practice Guide to AdWords Audits and discover our 22-step process for structuring an account.