Tom Williams looks at the latest search engine optimisation news, including how to ask for links politely, Bing's struggle with HTTPS and YouTube's popularity with moviegoers
Google Confusion on Link Building
Google appears to have muddied the links water yet again, after a blog post by its Portuguese webmaster inferred that even asking for a link could incur a penalty.
The post, naturally, had the SEO community alarmed. Google's Diogo Botelho wrote "não compre, venda, troque ou peça links," which translates to "do not buy, sell, exchange or ask for links."
The image below is a screenshot from the blog post:

Thankfully, Google finally came out with a clarification on this, stating that you cannot: "Buy, sell or ask for links that may violate our linking webmaster guidelines."
So we are allowed to ask for links as long as they do not violate Google's Webmaster Guidelines.
Sophos Discovers Mass Link Spam in PDFs
Hackers are apparently using PDF documents to inject links and keywords to redirect users to spam sites, according to Sophos, an IT security company. Sophos reported that it had uncovered a case of Google search spam involving "hundreds of thousands" of cloaked PDF documents with links that take users to suspicious websites.
Many of the PDFs, which looked like similar documents, were found to be ranking highly in Google's search results. Here's an example:
If a web user clicked on the PDF they would be taken to another site, such as the one below:
However, what the GoogleBot saw was not the website but the PDF with links:
Russia Agrees to Right To Be Forgotten
The Russian parliament has approved a broad "Right To Be Forgotten" law, Search Engine Land has reported. The law, which could come into force as early as 2016, would allow people to request removal of information from search engines that's deemed outdated, irrelevant or untrustworthy.
Russia's interpretation of the EU's Right To Be Forgotten has been criticised for being too sweeping. The Russian law doesn't allow for links to be identified for removal, simply that people can object to content and ask for search engines to remove it. The law also removes links in search engines, but not from hosting websites.
Google Increases Tweet Indexing
Google's Twitter indexing has taking a sharp upturn since the two digital giants signed an agreement earlier this year, with Tweets indexed increasing 466% from February to June, data from Stone Temple Consulting has shown.
However, while the figure seems impressive this jump is really an increase from 0.6% to 3.4% of all Tweets being indexed, meaning that 96% of Tweets are still unaccounted for.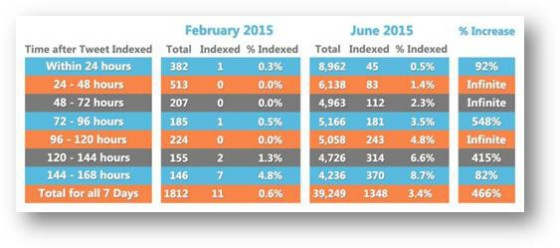 According to Search Engine Land, the results show that Google still favours Twitter accounts with a high following or high social authority. The Stone Temple figures showed a correlation between higher engagement levels and higher "authority", according to data from Followerwonk: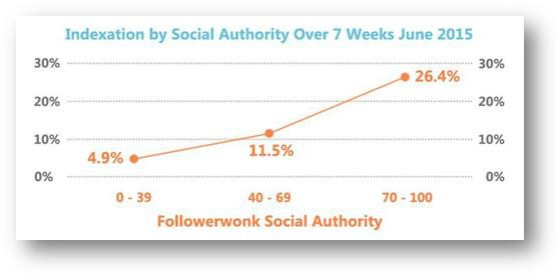 Is HTTPS Responsible for Bing's Lost Traffic?
Is Bing struggling to keep up with Google's efforts to encourage sites to adopt HTTPS? According to Search Engine Land, if your site has move to HTTPS using a TLS extension called SNI (Server Name Indication) then you may have experienced a drop in traffic. SNI enables companies to use one IP to handing the security certificates for multiple HTTPS sites.
However, it seems Bing is struggling to keep up with the increased security methods and standards. It appears that Bing is unable to crawl sites with the SNI extension implemented. Search Engine Land reported that Bing can only manually whitelist sites with this type of implementation. This has prevented the transfer of equity to HTTPS URLs, even with the correct one-to-one 301 redirects in place.
The result has been a huge drop in crawling, ranking and visits from Bing search results. The below graphs show a rank based traffic estimation from SEMrush (left), and what can happen to the number of pages crawled in Bing's Reports & Data report (right).

Google Goes To The Movies
Google has claimed that the number of mobile searches it has handled for movie showtimes has increased 41% year to date in 2015.
According to a recent study carried out by Ipsos, 74% of moviegoers now search online to find showtimes, with 56% of searches taking place on a mobile device.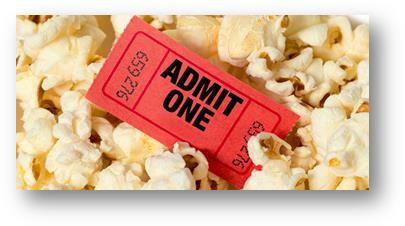 The survey, which used Google search and movie trailer data from YouTube, also found that 81% of trailers watched online were viewed via YouTube.
More Search Engine Optimisation News and Advice
Read last week's SEO news roundup: Google Penalties for Schema Markup
Want to learn about algorithmic penalties and how to take action? Download your free Link Audit and Removal white paper and learn from our six-step guide.