Lisa Coghlan looks at the latest search engine optimisation news, including Bing's new mobile friendly testing tool, Google sees continued growth from mobile ads and Yahoo introduces new look and features on Firefox.
Bing Introduces Mobile Friendly Testing Tool
Bing has announced its new mobile friendliness tool - a year after Google's tool was launched. Although Bing has not yet announced the launch of its mobile-friendly algorithm, the tool checks pages based on the following criteria:
Viewport and zoom control configuration
Content width
Readability of text
Spacing of links and other elements on the page
Incompatible plug-ins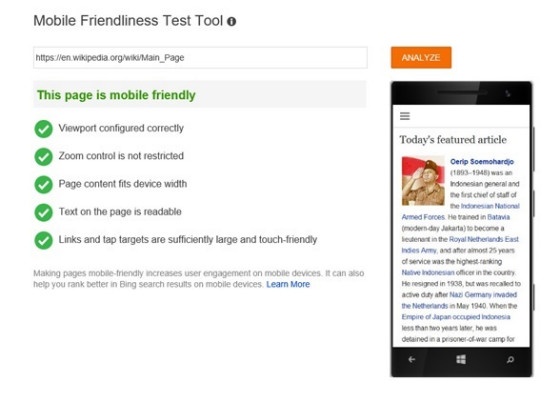 Bing says it runs checks on all of the above as well as running reports on resources needed to analyse the page fully but that are blocked by robots.txt. Webmasters will then be able to see what areas of their site need updating, and make the necessary changes.
Google Mobile Ads Continue To Grow as Organic Drops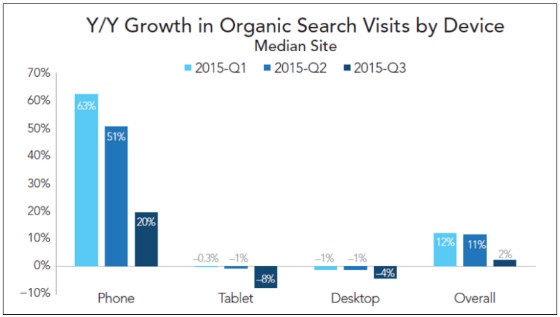 With the increase in mobile ads alongside the overall surge in mobile use, organic search growth on mobile has suffered as a result, Search Engine Land has reported.
As text ad impressions have increased - and with a larger PLA format - organic links are now fighting to sit above the fold on mobile SERPs. As a result, year on year growth for organic search on mobile has decreased from 51% in Q2 to just 20% in Q3.
The decline can't entirely be attributed to paid ads, however Google's drive on the monetisation of mobile ads has certainly had some effect. Search Engine Land's Andy Taylor looks closely at the relationship between mobile ads and mobile organic search in his blog.
Yahoo Rolls Out New Firefox Features
Yahoo has introduced new features to Firefox to enhance users' experience, including image and video content in its search results display. The header of the SERPs has been reinvented placing visual content front and centre.
The changes become obvious when searching for entertainment news or public figures, with a large carousel placed at the very top of results.
The new Yahoo Search on Firefox is available on Windows, Mac and Linux in the US only at this stage.
Study Shows Google's Anti-Piracy Efforts Ineffective
Google's piracy update has successfully removed torrent sites but has failed in getting rid of illegal streaming sites, according to a recent study conducted by JustWatch.
JustWatch is a Germany-based search engine for legal video streaming sites. The organisation has recently conducted a study looking into the results of Google's Pirate Update that rolled out in 2012 and updated in October 2014.
The study outlines that the update only successfully cut down visibility of torrent sites that offer downloads. But there has been no real impact on the increasing growth of illegal streaming sites. Rather, illegal streaming sites have increased 1,500% since the latest Google 'Piracy Update' in October 2014:
Google Notification on Broken SSL/TLS Certificates
Google has been sending webmaster notifications that their SSL/TLS certificates don't match their domain names, using the following message:
Google has detected that the current SSL/TLS certificate used on [domain] does not include [domain] domain name. This means that your web site is not perceived as secure by some browsers. As a result, many web browsers will block users accessing your site by displaying a security warning message. This is done to protect users browsing behavior from being intercepted by a third party, which can happen on sites that are not secure.
This may suggest that Google could update their HTTPS algorithm, potentially penalising webmasters for not updating their SSL/TLS certificates correctly.
More Search Engine Optimisation News and Advice
Read last week's SEO news roundup: Mobilegeddon Pt 2
Improve search performance and avoid ranking penalties. Download your free Technical SEO Best Practices eBook.