Tom Williams looks at the latest search engine optimisation news, including Google Search Console's changes to webmaster notifications, Sitemap bug's impact on indexes, Google's self-drive car crash and more...
Google Search Console Changes Webmaster Notifications
Google is to change the way it notifies webmasters of issues with their websites from next month. According to Gary Illyes from the Google Webmaster Trends Analyst team, Google Search Console (formerly Google Webmaster Tools) will only notify site owners, and not property owners, for most notifications.
He gave the following example:
Currently, if the site https://example.com/dont/panic/have/a/towel triggers a message, all of the following sites will be sent the message:
https://example.com/dont/panic/have/a/towel (the site triggering the message)
https://example.com/dont/panic/have/a
https://example.com/dont/panic/have
https://example.com/dont/panic
https://example.com/dont
https://example.com
With the upcoming change, only the owners of https://example.com/dont/panic/have/a/towel will receive the message triggered by their own site.
However, Illyes was quick to reassure us that this change will not affect how Google notifies webmasters of critical messages such as a hacked site alert, which will still be sent to all patent site owners.
Need to keep an eye on this one.
Penguin Real-Time Update 'Months Away'
Webmasters can stand at ease for the present, as Gary Illyes from Google's Webmaster Trends Analyst team announced over the weekend that the Google Penguin algorithm update is still some months away.
The update will make Penguin run in real-time, with continuously fresh link data. Currently, the data has to be updated manually.
However, webmasters shouldn't get too comfortable. Search Engine Land listed the dates of all Penguin releases, and they seem to have come pretty fast:
Penguin 1.0 - April 24, 2012
Penguin 1.1 - May 26, 2012
Penguin 1.2 - October 5, 2012
Penguin 2.0 - May 22, 2013
Penguin 2.1 - October 4, 2013
Penguin 3.0 - October 17, 2014
Chromecast Sells 17 Million Devices, Drives Engagement
Chromecast is driving higher visits, engagement and monetization for app developers, according to the latest blog post by Jeanie Santoso, merchandising marketing manager for google.
The first Google Cast device, Chromecast has sold 17 million devices and reported more than 1.5 billion touches of the Cast button. The device enables users to connect their personal mobile devices to their TV screen to view content on the big screen.
According to Santoso, app developers can benefit widely from adding Google Cast functionality to their apps. She cites increased visits, engagement and monetization as just three advantages. In her blog she gave case study examples of four companies using Google Cast to their benefit:
Comedy Central - 50% more videos viewed by Chromecast users, with 1.5 times more visits than the average Comedy Central app user
Just Dance Now - 2.5 times more monetization with Chromecast users, with Chromecast representing 30% of all songs launched on the game in the US
Fitnet - 35% higher engagement in Chromecast users
Haystack TV – the personal news channel doubled its average weekly viewing time
Google Sitemaps Bug Hits Indexed Pages
Google has confirmed a bug in its Google Search Console has led to a drop in index pages being displayed in its Google Sitemaps, but that it is working on resolving it.
Search Engine Land reported that many webmasters and marketers had noticed huge declines in the number of indexed pages being displayed.
Barry Schwartz presented a picture of a report showing a huge drop in index counts on July 14, 2015:
Google Hiring SEO Experts for Own Site Optimization
Websites use search engine optimisation as a way of improving their rankings in organic search on Google. However, the search engine is now hiring SEO experts to manage its own product page rankings on rival search engines, it would appear.
An advert on its careers website for a program manager of technical SEO lists driving organic traffic and business growth, website development and optimisation as central to the role.
According to the BBC's Technology section, the job is aimed at helping Google get its services noticed on rival search engines such as Bing and Duck Duck Go.
Google Self-Driving Car in Accident
One of Google's self-driving cars has been involved in an accident causing injuries to its passengers and those of another vehicle.
The driverless cars have been on the road in the US since 2009, and have been involved in a number of minor collisions, but this is the first to see humans injured.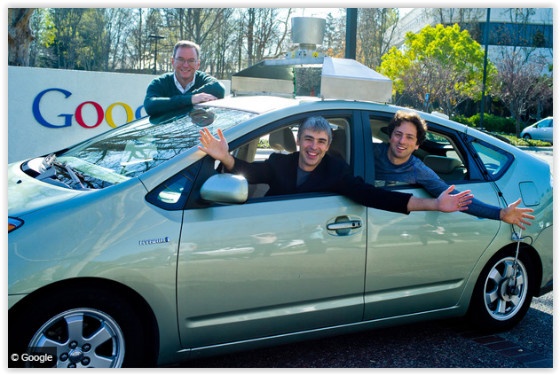 Three passengers in the Google self-drive car were taken to hospital for whiplash, while the driver of the other vehicle also complained of neck and back pain.
Google has said that the self-driving car was in stationary traffic when it was rear-ended by a car travelling at 17 mph.
Chris Urmson said that the crash was the result of 'human error and inattention' by the driver of the other vehicle, in his blog on the Medium.
Google Sends Mass Notifications for Incorrect Hreflang Implementation
Last week Google sent our mass notifications for hreflang issues through its Google Search Console. The new notification was sent to thousands of webmasters who have implemented hreflang incorrectly on their websites.
The notification looked like this: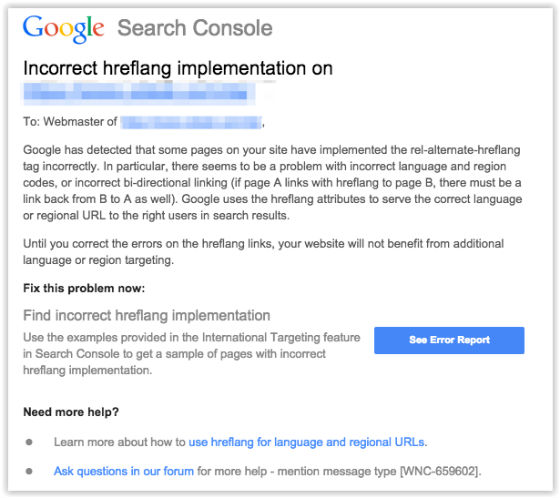 Webmasters who have received the notification need to resolve the issues in order to benefit from the language or regional targeting provided by the hreflang links.
Google Rolls Out Bluetooth Beacons Format
Google is introducing a new set of features to help developers integrate beacons into their app technology, according to a blog post by Chandu Thota, engineering director and Matthew Kulick, product manager.
A new open format for Bluetooth low energy (BLE) beacons will help apps communicate with people's devices using clues from their environment. The open format, called Eddystone, will support multiple frame types. It is cross-platform, so can therefore work across Android, iOS or any other platform supporting BLE beacons, and is available on GitHub.
More Search Engine Optimisation News and Advice
Read last week's SEO news roundup: Beware Google Penalties for Link Building
Looking to build an SEO-compliant website in line with industry best practice? Download your free Technical SEO Best Practices eBook and discover our 15 best-practice tips for solid SEO