Tom Williams talks us through the latest in search engine optimisation news, including Google update chatter, Google pushing AMPs further, an Analytics spam issue, and more.
Google Update Chatter Suggests Further Algorithm Changes
Chatter from a number of webmasters and SEOs suggests that further algorithm changes may be being carried out by Google.
On 5 October, a significant number of webmasters and SEOs began chatting about changes they were seeing in their rankings. The changes talked about are rather similar for the majority of webmasters, stating that they had seen an increase in rankings, and then a fall back to the level they were originally at, or lower.

Many of the people who have seen this happen to their site have seen it more than once, with their site's rankings fluctuating in this manner consistently.
Data collected by tools such as RankRanger and AccuRanker have supported what the webmasters have said, showing that there has indeed been uncontrollable fluctuations in SERPs.

Google Analytics Begins Work on Referrer Spam
Referrer spam has been an issue within Google Analytics reports for some time now, leaving webmasters with skewed results on their reports. Due to how long referral spam has been a problem for webmasters, most learned to deal with it.
However, at SMX East, Babak Pahlavan, senior director of measurement & analytics at Google, said that Google is now actively working on fixing the referral spam problem.
The full SMX East Google Keynote can be found on Search Engine Land's Facebook page – the Q&A section is towards the end of the speech.
Google Tells Us to Expect More Ranking Changes
On 27 September, Google's Gary Illyes told webmasters and SEOs to expect more changes to algorithms/rankings. This came after somebody questioned the unconfirmed and unexplained update that we saw at the beginning of September 2016.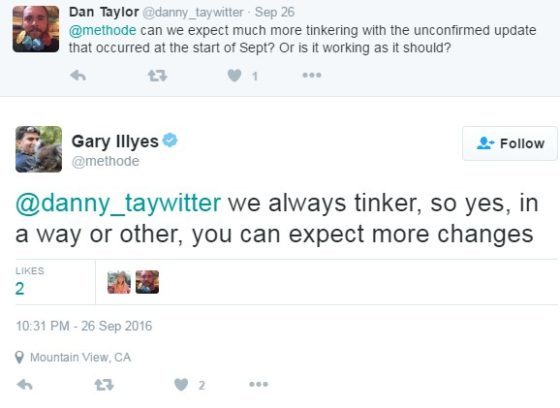 Google said it is always testing ways to improve the user experience – likely the reason it tinkers with algorithms and rankings.
Google Is Rolling Out More AMPs for Mobile Search
When AMPs were first rolled out to the full mobile search results, they only appeared in the top stories section of Google. Now, since the announcement of a full roll out, Google has begun pushing AMPs out search-engine wide.
According to Google, the AMP version of any page that has one will be shown in mobile search results, rather than the normal mobile friendly page.
As well as Google rolling out AMPs search-results wide, Bing has announced that it has created AMP support for its search engine on iOS and Android, meaning Bing will link to the AMP version of a page when possible.
Whiteboard Friday – How the Real-Time Penguin-in-the-Core-Alg Model Changes SEO.
In this week's episode of Whiteboard Friday, Rand Fishkin runs us through the past, present and future of Google's Penguin Algorithm.
More Search Engine Optimisation News and Advice
Read last week's SEO News Roundup: Google Begins Removing Penguin 3.0 Penalties
Wish to improve the performance of you businesses website? Start with a Technical SEO Audit from our experts.