Tom Williams brings us all the latest search engine optimisation news, including Google's expanded Safe Browsing service, Google penalties for unnatural links, in-depth articles dropped from SERPs and how to handle a HTTPS site migration, as well as the latest Whiteboard Friday presentation.
Google Cracks Down on Deceptive Ads
Google announced last week that it is expanding its Safe Browsing protection to protect users from deceptive embedded content. Such content aims to install unwanted software or encourage users to reveal personal information, such as passwords on credit card details.
Google took to the Webmaster Central Blog to highlight what users should be looking for, showing examples from ads carrying deceptive content, such as the one below.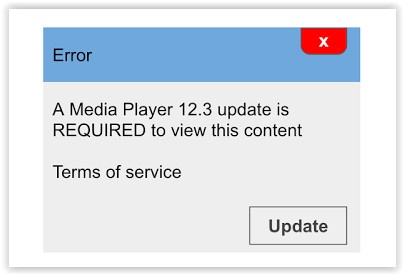 Google said:
Our fight against unwanted software and social engineering is still just beginning. We'll continue to improve Google's Safe Browsing protection to help more people stay safe online.
For webmasters, if your website regularly sees social engineering content then Google Safe Browsing may warn users when they visit the site.
Google Penalties For Unnatural Outbound Links
Google has been busy penalising sites for unnatural outbound links. Penalties were issued to sites linking out to others in an attempt to manipulate search results.
Google later admitted that the manual action penalty was directed at bloggers giving out links on product reviews.
Our advice – if you are reviewing free products on your site make sure you 'nofollow' the link and check with Google's new blogger guidelines to avoid action being taken against your site.
Google Drops In-Depth Articles from SERPs
Google appears to have dropped in-depth articles from its search results, Jennifer Slegg reported on The SEM Post last week.
Dr. Pete Meyers confirmed the removal. Stats from Mozcast backed this up, with in-depth articles showing a fall off to 0% coverage:

Slegg highlighted that Google had been cutting back on the real estate afforded to in-depth articles for some time – first deleting the section header, then the thumbnails, and then deleting the extra lines once afforded to in-depth articles.
Whether this is a temporary change by Google, or a transient one, remains to be seen.
Google Advises Websites on Out Of Stock Products
Google's John Mueller took to Google+ recently to tackle the subject of what websites should do with pages dealing with out of stock products. He offered two solutions:
Redirect from the old products page to similar products
Return a friendly, customised404 page
What he did stress was that websites should do what fits best with their customers.
This is what Mueller said:
The short version, imo, is to do what works best for the user, and search engines will generally figure it out from there too. Sometimes that's a redirect, sometimes a friendly 404 page (and those can be customized too).

Here's a pretty comprehensive post that goes into various aspects specifically for the search side of things. Check it out, and remember that some things don't have an absolute technical answer for all variations, so sometimes the best way to answer a tricky question like this is to ask a non-SEO user of your website how they'd like to have it handled :).
Key Points for Migrating from HTTP to HTTPS
Considering migrating your site from HTTP to HTTPS? Search Engine Land columnist Patrick Stox provided a summary of the process in his post last week.
Stox provided a 29 point check list on the process, highlighting common problems with HTTPS migrations and key considerations with redirects. Stox states that HTTPS is here to stay. Websites still on HTTP should consider migrating over to HTTPS.
Whiteboard Friday – Managing Internal and External Site Links

Rand Fishkin considered the dangers, opportunities, risks and rewards of internal and external links in his Whiteboard Friday presentation last week. He covered what links can have the most positive impact on your site and what links you should avoid.
More Search Engine Optimisation News and Advice
Read last week's SEO News Roundup: Webmasters Believe Penguin 4.0 Now Rolling Out
Build and maintain an SEO-compliant website. Download your free 32-page eBook on Technical SEO Best Practices and learn from the experts.
Looking for help to optimise your website, whether as an ad hoc project or as on-going support? Find out how our SEO Management services could help your business.