Tom Williams talks through the latest in search engine optimisation news and advice, including Google's first experiments with a mobile search index, infrastructure updates to Google's Search Console, Google's 'Back-To-Top' interface update, and more.
Google Starts Mobile-First Index Experiments
On Friday 4 November, Google announced that it would start working on the implementation of mobile-first search indexing.
Gary Illyes announced that Google would be creating a mobile search index on 31 October, and since then Google has been working to make it happen. On 4 November 2016, Google posted on the Webmaster blog announcing that the transition to mobile-first indexing had begun.
During the time since Gary Illyes initially announced the information there has been a lot of talk amongst SEOs about the upcoming change.
When the news was first announced, there was much confusion regarding how the search index would work, with many SEOs believing that Google was going to create an entirely new index for mobile and keep the desktop index separate. This isn't the case however, as the Google Webmaster blog, and posts by Google's own Paul Haahr, explain: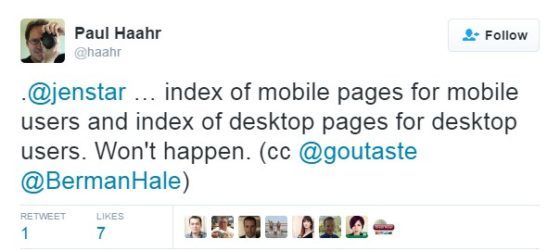 Google doesn't plan on creating a new search index purely for mobile, but simply plans on reprioritising the current index to target mobile first. This means that ranking factors will be used from the mobile versions of sites if they're available, rather than the desktop sites.
Although our search index will continue to be a single index of websites and apps, our algorithms will eventually primarily use the mobile version of a site's content to rank pages
Although Google has already started experimenting with a mobile first index, there hasn't been an official date or time scale confirmed for the global roll out of a full mobile-first search index.
Google Runs Tests On Desktop and Mobile SERPs
Google has recently been running tests for its user interface – testing lighter green URLs on desktop search for organic search and AdWords snippets, and a 'back to top' button on mobile.
Green URLs
Google is currently running another search interface test in which organic results and AdWords results will feature light green URL fields.
This test is very minor, as it does nothing more than make search snippet URLs appear in a lighter tone. This isn't the first colour test that Google has run for its search result interface – on 3 November 2016 they were testing darker green URLs.
Mobile 'back to top' button
Google recently tested a 'back to top' button for mobile search.
This button is present on the mobile search results pages, and it hovers toward the bottom of the screen ready to click at any time. When the button is clicked, you are simply reverted to the top of the SERP.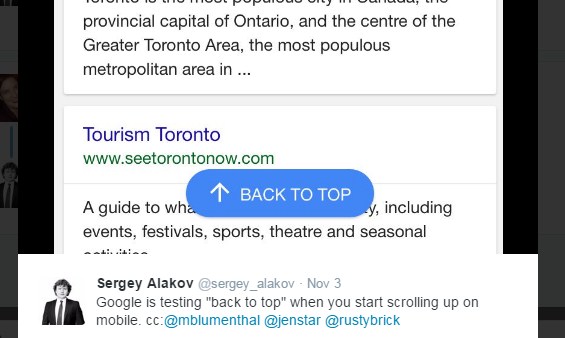 The button was most likely implemented as a way to improve user experience, however the person to first report on the test – Sergey Alakov – said the button was unresponsive and the user experience wasn't great.

Google Search Console Receives Infrastructure Updates
Google Search Console is currently undergoing a number of infrastructure updates, and it's causing reporting issues for some.
In a post from Google on the webmasters blog, it was confirmed that the current infrastructure updates that are being carried out may impact reporting within the interface.
Search Console is performing infrastructure updates that will prevent data logging in some reports for the next few weeks. (Search Analytics should not be affected.) We thank you for your patience and hope to resume logging shortly.
The update started on 1 November, and is marked as 'ongoing'.
Whiteboard Friday – How To Beat Your Competitor's Rankings with More Comprehensive Content
In this week's episode of Whiteboard Friday, Rand Fishkin teaches us how to beat competitor's rankings with more comprehensive content.
More Search Engine Optimisation News
Read Last week's SEO News Roundup: Google's Possum Update Has Effect on Local SERPs
Want help pushing your site to the top of the SERPs? Take a look at our Technical SEO services.