Tom Williams brings us all the latest search engine optimisation news, including Google's new mobile friendly test, Google's latest SERP feature, Yahoo Mail updates and more.
Google Launches Mobile Friendly Testing Tool
Since the release of the mobile-friendly algorithm in 2015, Google has been trying to get site owners to make their websites responsive for mobile devices. Google has announced that to help keep the ball rolling, a mobile-friendly testing tool has been launched.

The testing tool is designed to show whether or not a site is mobile-friendly. Google stated in its Webmaster blog post that it has left room so that it can continue to build upon the current test, and improve its functionality. The new Google mobile-friendly test also works on smartphones
Google Introduces New SERP Feature - Rich Cards
Google has introduced a new SERP feature known as rich cards. This feature is a new search result format built on the success of rich snippets.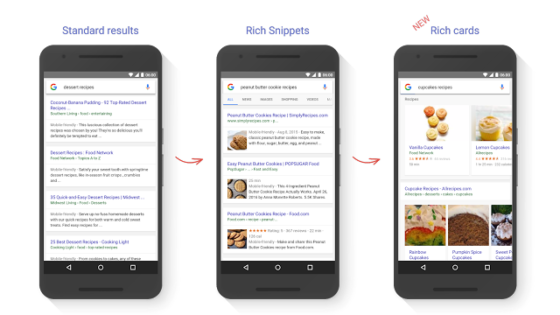 Intended to stand out in search results, rich cards feature a large image, alongside a title and ratings. Google released this new feature in an attempt to give site owners an opportunity to stand out in search results. They used the example of a recipe site to explain the significance of rich cards.
If you have a recipe site, you can build a richer preview of your content with a prominent image for each dish. This visual format helps users find what they want right away, so you're getting users who specifically want that especially delicious cookie recipe you have.
Google announced that rich cards will only be available across mobile search results for recipes and movie ratings, at present. Google also said that it is "experimenting with more opportunities to provide more publishers with a rich preview of their content".
Yahoo Mail Update Rolls Out for iOS and Android
Yahoo has launched updates for its Yahoo Mail apps on both iOS and Android platforms.
Yahoo Mail on iOS gained:
A link preview feature – when users send links through Yahoo mail, the app converts the link into a preview card to give the recipient a preview of the content.
Email stationary themes – allows users to select a stationary theme for an email via the compose assist button.
Share icons – users can share content through Yahoo Mail with the addition of a Yahoo Mail share button on their devices.
Yahoo Mail on Android gained:
A contacts list – the update bought a contact list accessible from the side bar that opens up a list showing all contacts users have interacted with.
Optional Android syncing – Android users have the ability to sync Yahoo Mail contacts with their device contacts.
Open beta testing – Android users have the option to take part in Yahoo's experimental feature testing.
Yahoo stated that the reason for the new updates to Mail were to 'help users stay organized and get more things done quickly.' And due to their recent losses, Yahoo kicked off a process to 'consider strategic alternatives for the company.'
Google Tests New SERP Interface
Google has been spotted testing new styles for the user interface only weeks after they were testing black hyperlinks for titles in search results. This time, google is testing two different interfaces.
One of the tests that Google is in the process of conducting is an interface that is more spacious and has a wider search results page layout. The other shows a layout similar to the card-based styled interface Google used in 2013.
As the two unique Google interfaces are currently only in testing stages, and due to the frequency of Google testing new interface layouts, it is unknown whether or not either of these interfaces will be used past testing stage
Google's Structured Data Testing Tool Has Been Updated
Google has updated their structured data testing tool. The update is designed to make the service more helpful for users who run into problems and errors. The updated version of the tool gives more detail on common problems intended to make it easier for site owners to fix structured data issues.
There are a few major updates that will make problems easier to fix for website owners. One feature allows users to paste a URL or code snippet into the tester, and the program will check the URL/code snippet, and report back to the user on what is wrong with it.
Another useful feature is the added ability to analyse specific structured data types when a page is marked up with several types. This helps users to find what is wrong with the site page, without having to analyse the entire page.
There are many more changes that Google has made to the service to make it easier for users to navigate, and to help them fix errors and issues they may be having with their site.
Whiteboard Friday – App Search
Rand Fishkin covered the topic of App Search last week in his Whiteboard Friday when he shared his weekly article.
More Search Engine Optimisation News and Advice
Read last week's SEO News Roundup: Part Two Of Google's Mobile-Friendly Algorithm
Find out how our SEO Management services could help your business to succeed online.