Lisa Coghlan looks at the latest search engine optimisation news, including seven new languages for Google News, expanding mobile search links, deadline looms for CSV support scripts, and Google goes blue.
Google News Launches 7 New Language Editions
Google announced last week that it was adding seven new languages to its Google News portfolio. These will be Romanian, Bahasa Indonesia, Bengali, Bulgarian, Latvian, Lithuanian and Thai.
Brian Kemler, Program Manager, took to the blog to write:
The next billion internet users are from all countries and corners of the globe. We want Google News to be there to greet them in their own languages to help satisfy their thirst for news.
Google News already supports 28 languages across 45 countries. The new languages will open up the service to more than 260 million people, reporting the news to them in their native tongue.
Kemler also announced that further language editions could be added in the coming months.
Google Expands Mobile Search Links
Search Engine Land has reported that Google has introduced a new format to its sitelinks on mobile search results. The Google Sitelinks appear under a search result snippet to provide additional navigation links to other relevant pages on the website.
This is what they now look like: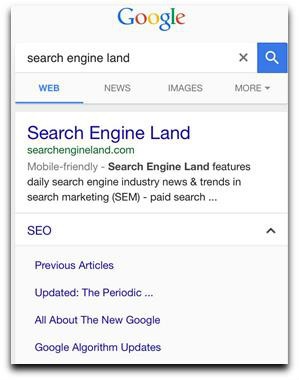 When expanding SEO, the new look provides four additional links to the Search Engine Land website. Search Engine Land believes this is still under testing, as Google waits to see what level of interaction these new links have with users.
Is Google Starving Wikipedia?
Jimmy Wales, the co-founder of Wikipedia, took to the web last week to confirm that Google is sending the information site less and less traffic.
Following weeks of speculation on this, including reports from SimilarWeb that Wikipedia may be being hit by a Google penalty, Wales came forward to announce that this has been a "long-term issue" rather than a sudden drop in traffic.
According to Wales, the SimilarWeb article misrepresents the Wikipedia and Google relationship. He said: "It is also false that 'Wikipedia thrives on clicks,' at least as compared to ad-revenue driven sites… The relationship between 'clicks' and the things we care about: community health and encyclopaedia quality is not nothing, but it's not as direct as some think."
According to Search Engine Land, Wales could be right. Wikipedia is seeing a gradual decline from Google, as SearchMetrics shows in their SEO Visibility charts.
However, a few days later Wikipedia published a PDF report downplaying the news, stating that "no direct data shows a decrease in google traffic".
Google To Discontinue CSV Support by October
Google is to discontinue its support of CSV Download Scripts in Google Search Console it announced on Google+ last week. John Mueller said that Google will be discontinuing the support, specifically for the Python script, to download search query data from Google Search Console (formerly Google Webmaster Tools).
The deadline webmasters need to work towards is October 20, 2015, as this is the last day the Python Script will work. Webmasters and developers need to migrate their scripts over to the new Search Console API ahead of this deadline.
Book an Appointment with Google's Latest Feature
Booking a doctor's appointment could soon get a whole lot easier thanks to a new feature Google has started testing.
The "Book an appointment" feature is now appearing in some knowledge panel results, enabling users to book an appointment with a local service provider straight from the search results.
Google is working with Intuit's small business marketing platform Demandforce on the new feature. The "Book an appointment" feature will appear in the knowledge panel, which is chiefly populated with the provider's Google My Business information.
This new feature follows on from other third-party powered features in knowledge panels and Google Maps, including making restaurant reservations through Open Table and getting Uber price estimates.
Google Navigation Goes Blue
And finally, Google is changing colour – well, at least for its navigation links. After months of testing, the search engine has decided to swap the red colour it has been using for years for a blue-coloured link.
As users search between Web, News, Images etc., Google will now highlight the section you are in by making the link blue.
More Search Engine Optimisation News and Advice
Read last week's SEO news roundup: Introducing Alphabet, Twitter on Search, and Hangouts 4.0
Learn how to ask your developer the right questions and put your site to the test today. Download your free Technical SEO Best Practices eBook and learn from the experts